Share this article with Facebook
Share this article with Twitter
Share this article with Linkedin
Email this article
It was a semester full of challenges but also great events! Through a series of three "Virtual Fridays: MBS Alumni Career Stories," students had the opportunity to connect with MBS graduates who shared advice and spoke about their career journeys. (Note: the next "Virtual Friday" will be held this Friday, June 5, at noon.) Hosted by MBS executive coach Abbe Rosenthal, PCC, Assistant Director/Head of Corporate Partnerships, Employment & Professional Development, the second "Virtual Friday," held on April 17, 2020, featured panelists Ritupriya Yamujala MBS'13, Beethoven Plaisir MBS'18, and Ashley Rae Kark MBS'14.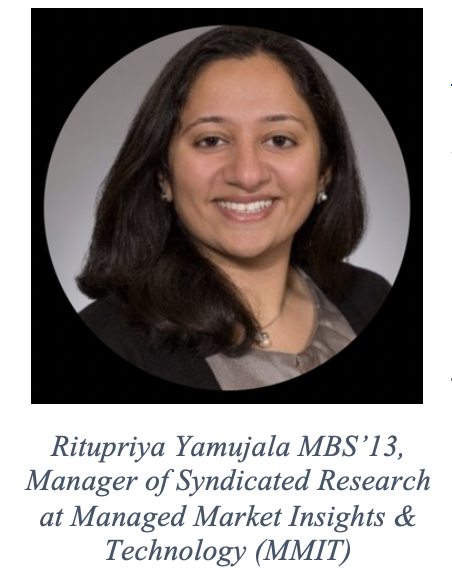 Ritupriya, currently a manager of syndicated research at Managed Markets Insight & Technology, LLC (MMIT) graduated with a concentration in Biotechnology and Genomics. An international student with a strong background in biotechnology, she saw the MBS program as a perfect path to merge her business skills with her technical skills and enhance her overall learning. During her time at MBS, she got hands-on experience blending business and science through her research at Rutgers' Department of Plant Biology, under Dr.Rong Di, as well as through an internship as a business development intern at JuiceTank, where she spent four months creating marketing plans to help maximize utilization of incubator amenities and develop new business venture ideas
Ritupriya also built her experience in the industry as a part-time data entry and study assistant at AlcheraBio LLC, where she focused on clinical research of animal products and coordinated research site visits. Upon graduation from MBS, she took on the role of analyst at Zitter Health Insights, (now part of MMIT), where she wore multiple hats coordinating between sales, marketing opportunities (with flexibility for internal and external market research), consulting, and client presentations. She says that the knowledge she gained from courses including Principles of Accounting and Finance for Science & Technology Management (16:137:530), Principles of Communication & Professional Development for Science & Technology Management (16:137:502) and Market Assessment and Analysis for Business and Science (16:37:507) helped her to work through the challenges and achieve her current role, which she has held for more than seven years. It is a role that requires advanced scientific knowledge in order to understand the mechanisms of medicines and how they operate across different therapeutic areas; it also requires advanced business knowledge in order to solve business-related issues for pharmaceutical manufacturing companies and design knowledgeable questions to identify problems and generate solutions. She believes it is important to focus and absorb skills while in school remembering that we may one day put these skills to use in future professional opportunities beyond our concentration. In particular, she acknowledged the important role of her MBS peers and the value of networking, as she received an interview opportunity through a peer referral and received a full-time job offer through the MBS network, as well.
Key Insights:
Speak up and advocate for yourself
Learn and innovate by building your skills and your personal brand to get a seat at the table
Network as much as possible in order to understand what others are doing—what is out there both within your industry and beyond
Always have a backup plan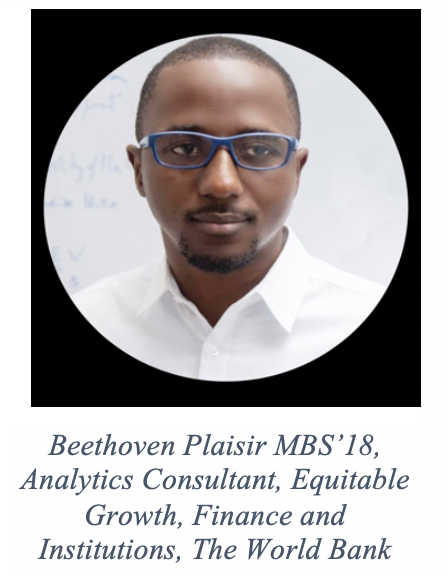 Beethoven Plaisir MBS'18, dialed in from his home country of Haiti to encourage MBS students to use their time at MBS to become more self-aware of their personality and skills, listing it down, evaluating decisions, and creating an action plan to improve themselves. With an undergraduate degree in Economics and Statistics, and after ten years of work experience as an analyst in the telecom and banking sector, Beethoven enrolled in the MBS program with a concentration in Analytics: Discovery Informatics and Data Sciences.
The recipient of a Fulbright Scholarship, Beethoven maximized MBS's experiential learning opportunities by participating in the Externship Exchange program. He learned from his decade of work experience that he was not ready to apply his education to answer real-world problems, and that adding value with education or a new job did not mean just financial impact but improving his skills so he could build his portfolio beyond his educational degree. In his role as an extern analyst at the New York City Department of Information Technology & Telecommunications (DoITT), Beethoven applied his analytical skills in support of cost optimization, efficiency, and other strategic initiatives. He further took up the role as a data scientist at Forbes magazine to build machine-learning models for improving performance of Forbes's articles based on distribution and consumption of articles using pattern-identification metrics.
Beethoven did not just stop at exploring data for classroom assignments or externship requirements but applied the skills he developed through the Business Intelligence with Visual Analytics (16:137:553) course to solve a government budget-related issue in Haiti. He shared his findings with the Haitian Parliament, after which he was invited to help the government of Haiti. This led him to his current role at the World Bank as an analytics consultant with the Equitable Growth, Finance and Institutions team where he currently develops analytical platforms and web applications and trains government clients to facilitate accessibility of worldwide government budget data.
Beethoven says that the problem-solving skills he honed through the MBS program, as well as his ongoing inquisitiveness, his desire to gain knowledge, and his ongoing self-evaluation and striving for improvement led him to where he is today. He says he strives every day to be better than yesterday by competing with himself, not anyone else, and reminded us that each day is a new opportunity for success.
Key Insights:
Whoever learns the fastest wins!
Risk is not what you see coming
Your network is your net worth. Your skills are important, but it is more important to have a strong network.
Don't wait for an opportunity, create it
Take the value-added offer and be so great that they can't ignore you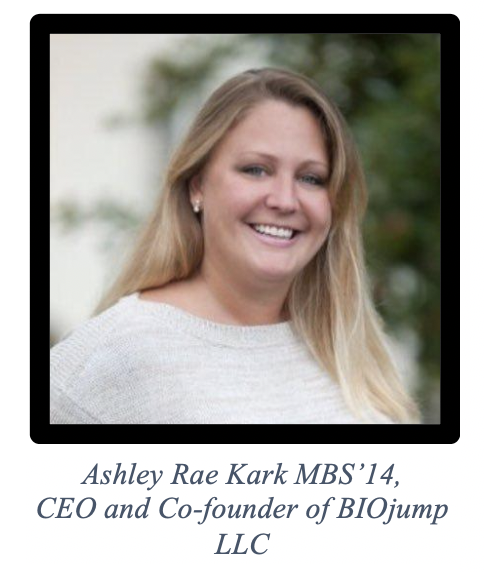 Ashley Rae Kark MBS '14 is CEO and co-founder of BIOjump LLC and has more than 10 years of experience in business development, procurement, and sales to pharmaceutical researchers. Once uncertain about her goals in high school, she has gone on to establish herself as a successful entrepreneur and was happy to share her life lessons and career lessons with MBS students.
Ashley Rae began her undergraduate education at Ocean County College through the NJ STARS program, where she was a captain of the sailing team; she also started working for the biology department—a role she created for herself. After obtaining her associate in science degree, she transferred to Montclair State University, where she focused on cellular biology and bioimaging. After graduating with a bachelor of science degree in biology, Ashley Rae began working for CCS Cell Culture Service, starting as a lab technician and then ultimately paving her way to take over all North American operations. With an academic background in Drug Discovery and Development, Ashley specialized in assay-ready frozen cells for high-throughput screenings and bioassays and added the business value to the science aspect of her job by coordinating attendance details for over 250 conferences, networking events, and public presentations in her field of expertise. With that, she honed her skills of incorporating business with science and vice versa as she enrolled in the MBS program. Professionally, her outlook changed as she took up the offer for a sales and marketing position in the same firm, after slight hesitation as the position was a deviation from her usual laboratory-based roles. Since then, she never went back to the lab technician role. Her professional network started growing as she developed a strong customer base through public presentations across the pharmaceutical industry. After CCS Cell Culture Service was acquired by a full-service global biotechnology company, Evotec SE, Ashley Rae went from a small role wearing multiple hats to establishing herself in a full-fledged corporate sales position where—within just two years—she hit $2M in annual sales.
After graduating from the MBS program, Ashely co-founded BIOjump LLC with her former boss and mentor to facilitate collaboration between the U.S. and Europe for serving biotechnology firms to have benefits of an international subsidiary. She also started consulting at Scientist.com, where she led efforts to create a formal marketing team. She experienced her first layoff last year, as she was let go from Scientist.com due to company restructuring. Meanwhile, BIOjump became profitable and currently she is supporting growth with inventory management software and navigating through the global pandemic. Ashley Rae attributes her sharp business skills to courses such as Market Assessment and Analysis for Business and Science (16:137:507) and the Science and Technology Management Capstone (16:137:600). Through these classes, she enhanced her soft-skills, worked on business plans, and pitched ideas to attract investors. Through BIOjump LLC, Ashley Rae has hosted MBS students for logistics and finance internship, where an intern was offered a full-time position, making a full-circle journey from being a student at MBS to giving back to her alma mater.
Key Insights:
Be open to opportunities
Build your personal brand and always put your best foot forward
Extend professional connections by giving a personal touch
Build and showcase your expertise combining soft skills with technical skills
Be bilingual in business and science
Have a voice of your own
In Summary: Students used this great opportunity as a source of motivation to work on their action plans for the summer as they learned from experiences, industries, and conversation with the alumni panel. The next "Virtual Friday" will take place this Friday, June 5, at noon. Stay updated for similar experiential learning events via the MBS Events page, and connect with MBS alumni to learn more.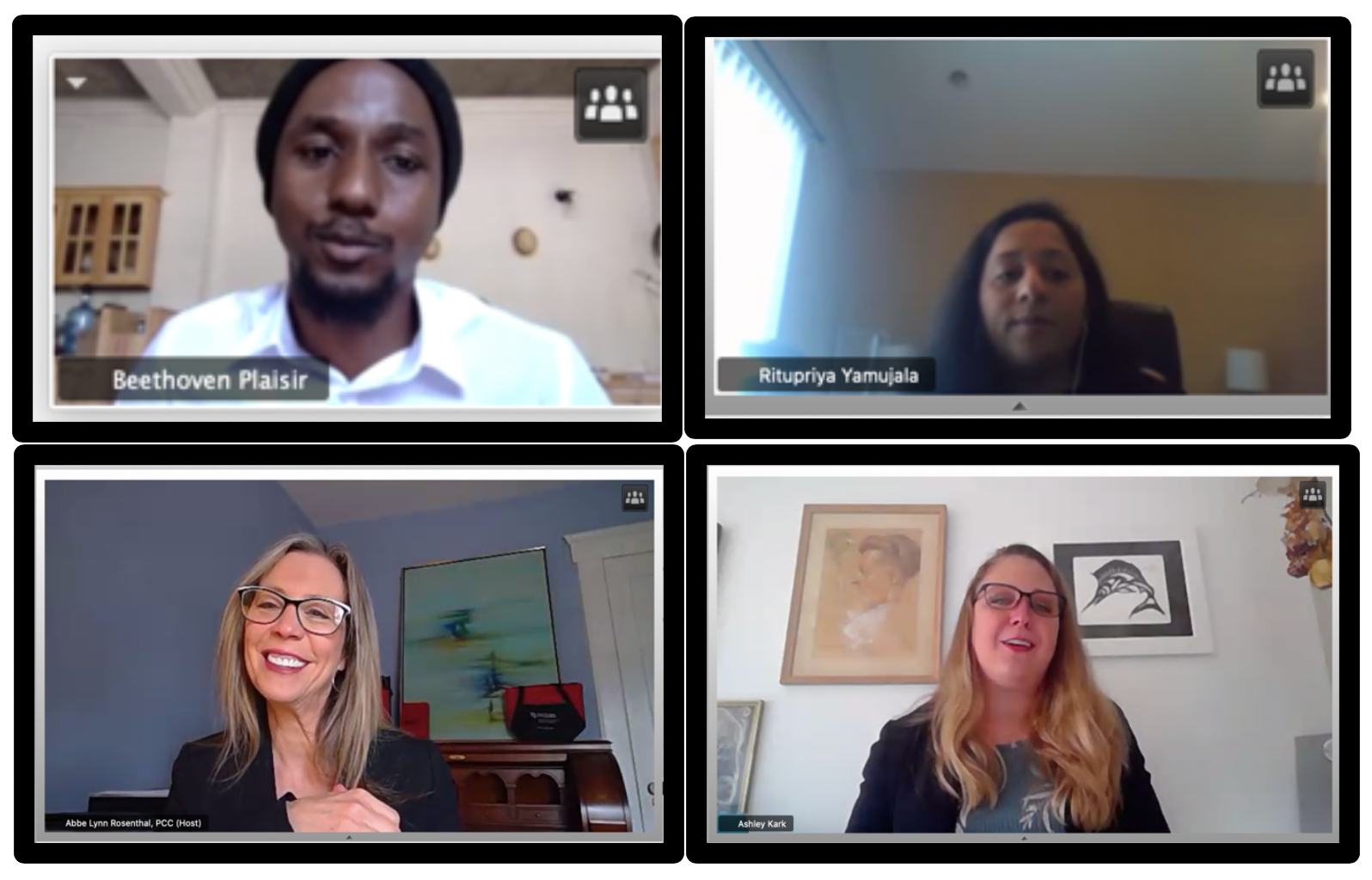 L-R(clockwise) Beethoven Plaisir MBS'18, Ritupriya Yamujala MBS'13, Ashley Rae Kark, MBS'14, and host / MBS executive coach Abbe Rosenthal engaging with students through WebEx. Beethoven, Ritupriya, and Ashley Rae shared their personal and professional learnings after graduating from Rutgers MBS.