Share this article with Facebook
Share this article with Twitter
Share this article with Linkedin
Email this article
Many of us are worried about job security; we may know people who have lost their jobs, and it is hard to not be unnerved by the most recent unemployment statistics: according to the U.S. Department of Labor's most recent report, more than 26 million Americans filed for unemployment in just a five-week period ending on April 18, 2020– effectively eliminating all of the job gains since the Great Recession.
Interpreting the Data:
When reading reports and news articles, it is important to remember that many statistics are based on nationwide numbers. So, when breaking down how this data relates to our local economy, here are things to consider:
How does our geographic region contribute to these total numbers?
What jobs are most impacted?
What does this mean for me, as an MBS student?  
Are the job losses related to my concentration area or industry?
Using Our Resources:
In order to better understand and interpret labor trends and job demand in STEM-based industries, we at MBS rely on real-time information provided by Emsi, an entity that culls and analyzes data covering more than 99% of the workforce—pulling information from a wide variety of sources including government entities, online job postings, and professional profiles and résumés on sites such as LinkedIn.
On April 22, 2020, MBS faculty and staff members participated in Emsi's webinar, "COVID-19 and Higher Education: What Now? What Next?"
Event moderators discussed how COVID-19 has impacted the national economy, as well as how Emsi's analytics have been adjusted to better track economic trends through that lens. Following the webinar, we were given a Rutgers-specific Regional Impact Report for a six-week period spanning from March 1, 2020, to April 15, 2020; the report is posted below.
We have subsequently broken down the report in relation to how its numbers impact MBS students, whether through area of academic concentration or through impacted industries.
First, let's start with job posting changes: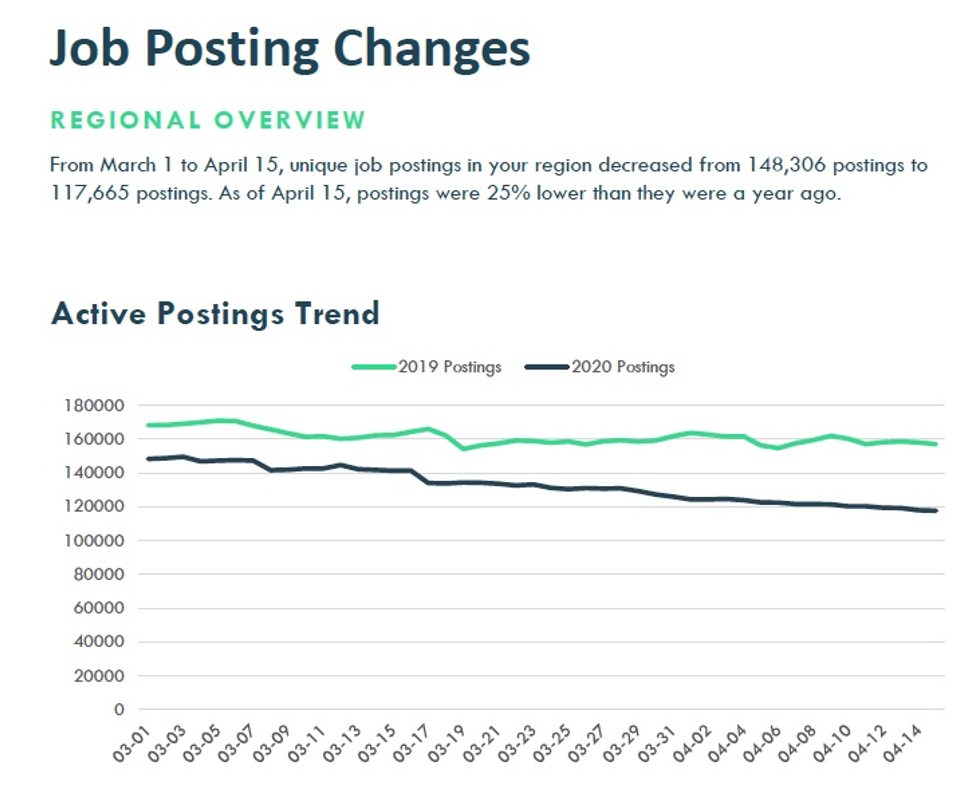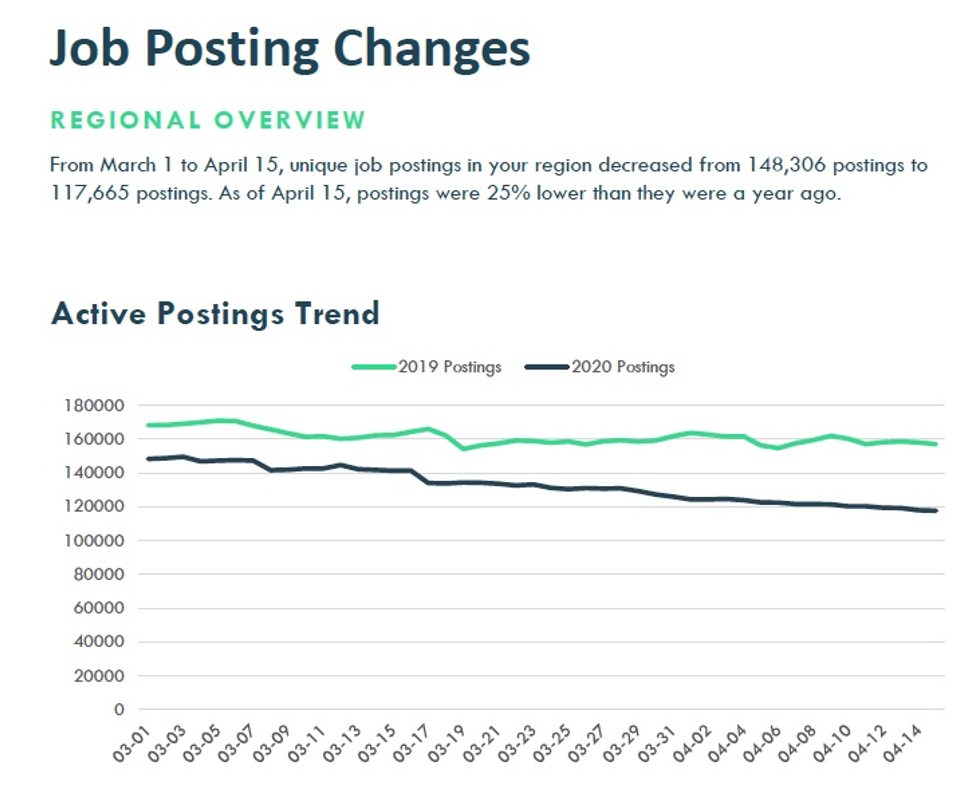 What the Data Shows: From March 1, 2020,  to April 15, 2020, postings decreased from 148,305 to 117,665—a 20 percent drop.
What the Data Means: A 20 percent drop in just six weeks is significant; but let's look at what kinds of jobs are experiencing this decline, keeping in mind the current impact of social distancing.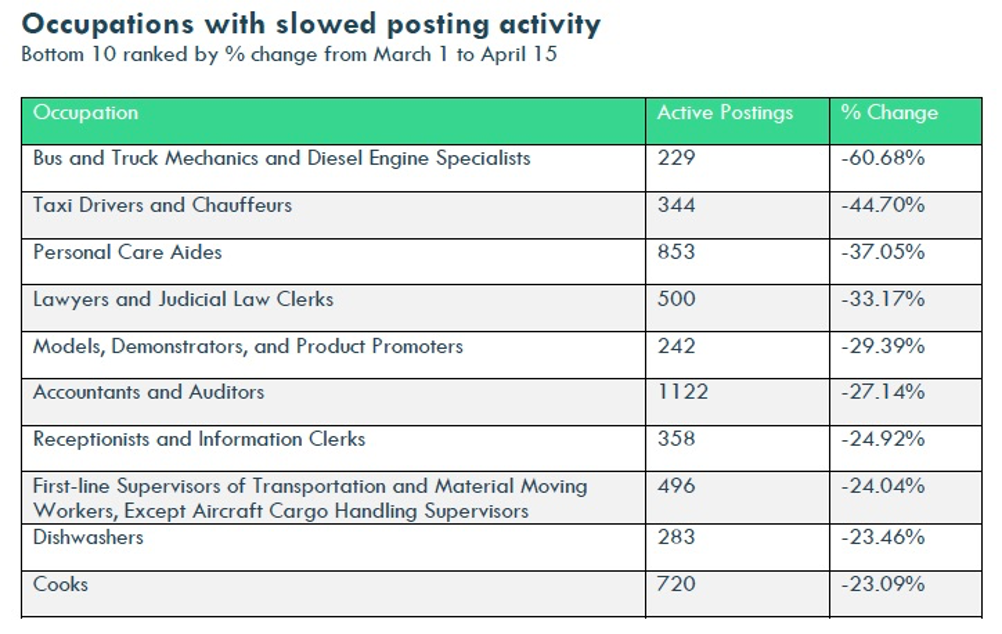 Bottom Line: The 20 percent drop is not an ominous indicator in relation to MBS-specific concentrations.
The occupations with decreased posting activity include positions such as dishwashers, cooks, taxi drivers, and personal care aides—occupations that have traditionally high turnover, in general.
These occupations would logically be heavily impacted by COVID-19's social-distancing measures.
These occupations account for a significant number of jobs in our area.
 These jobs stand to return once social distancing ordinances are lifted.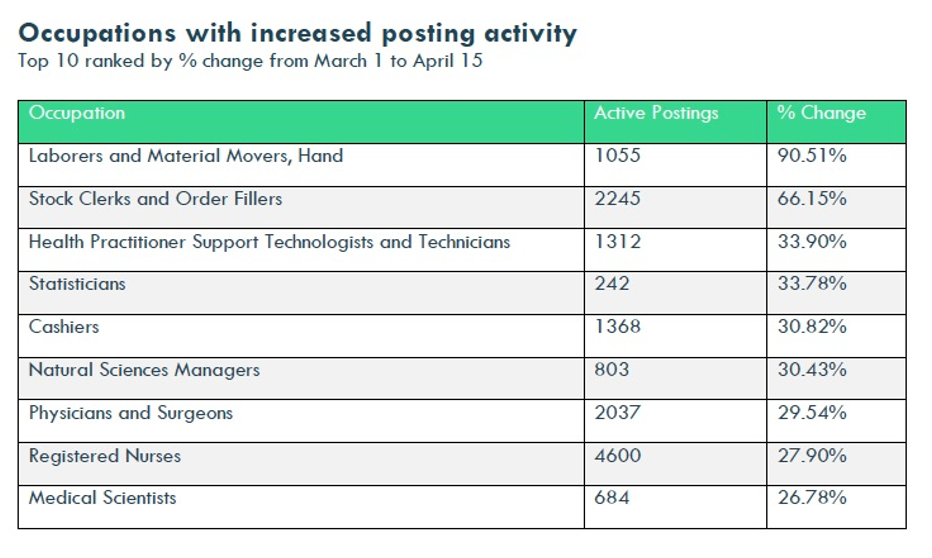 Bottom Line:  With the exception of "natural sciences managers" and, potentially, "statisticians," there is not great tie-in to MBS concentrations (for "statisticians," you'd need to look at the capacity in which the employee would function. Data analytics? Then, yes).
 
Regional Impact: Companies with Slowed Postings vs. Companies with Increased Posting Activity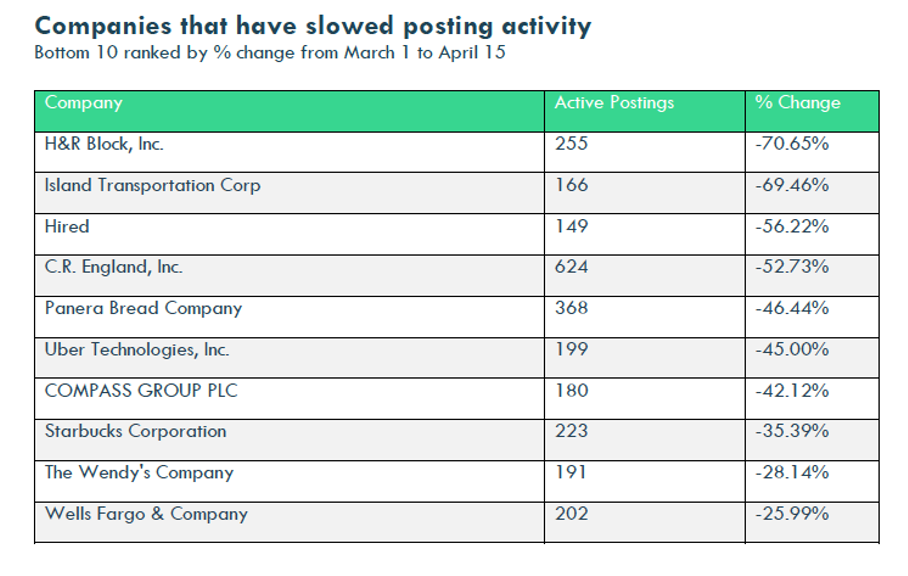 Bottom Line: No company with slowed posting activity is a shocker when viewed through the lens of COVID-19. H&R Block tops the list of slowed posting activity; however, H&R Block historically hires seasonal tax preparers—some entry-level—and tax season was over as of April 15, 2020. Even by March 1, 2020, most individuals had either filed taxes, or knew they were getting a legitimate extension. Or just decided to be late.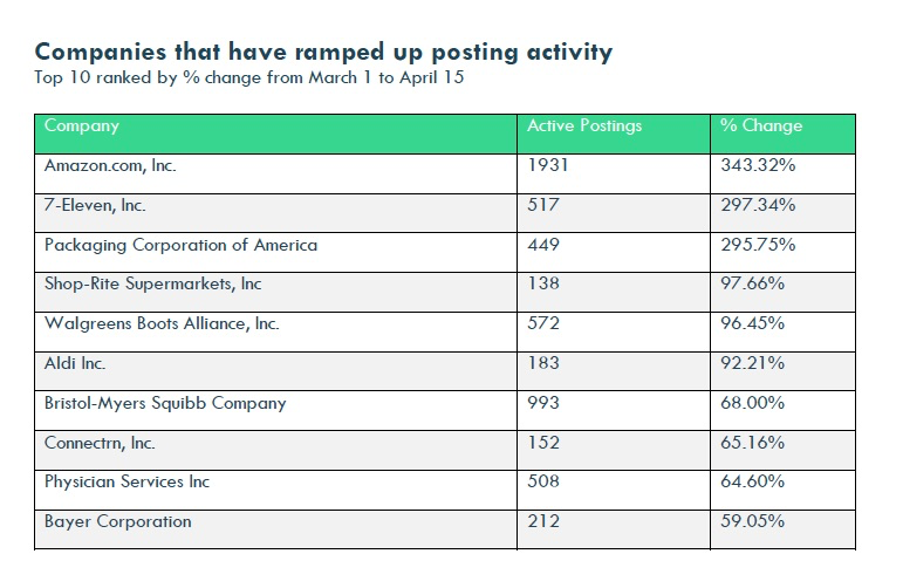 Bottom Line: The posting increases for nearly all above companies can be tied directly to the impact of COVID-19 : Amazon holding the top spot is especially not surprising, due to consumers' continued or increased online ordering, and companies such as Bristol-Myers Squibb, Bayer Corporation, and Physician Services (drug testing /paternity testing) are all likely involved in vaccine development or developing COVID-19 testing.
Skills Analysis: Skills that are Hot, Skills that are Not, Skills that Endure
Note: The most important skills here—the ones valuable in any economy—are the Resilient Skills.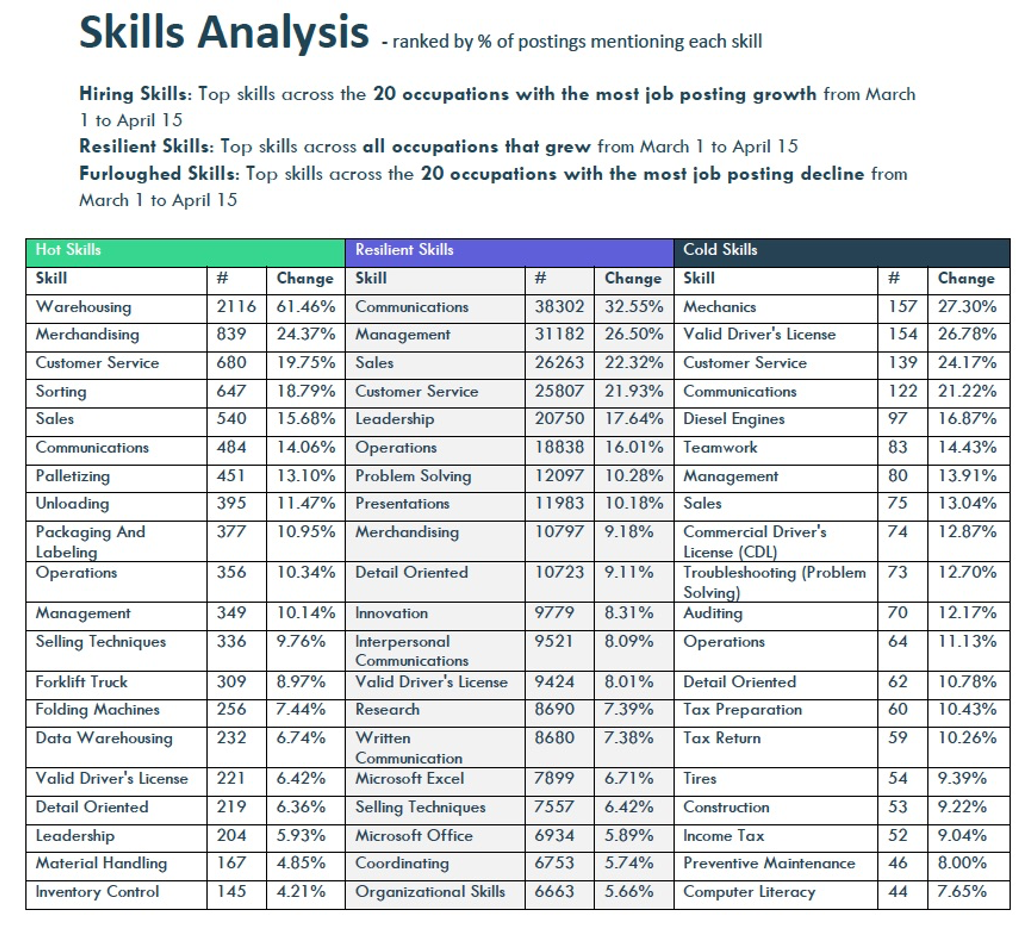 Bottom Line:
Hot Skills: Unsurprising; nearly all skills can be interpreted as directly related to online ordering and the associated logistics, packaging, and warehousing necessary fulfill the orders.
Resilient Skills: These are the very skills that MBS students either naturally possess, or skills they   hone by way of the MBS curriculum.
Cold Skills: These skills are very much in line with what you'd expect during a pandemic where social distancing is keeping most humans indoors and many restaurants closed.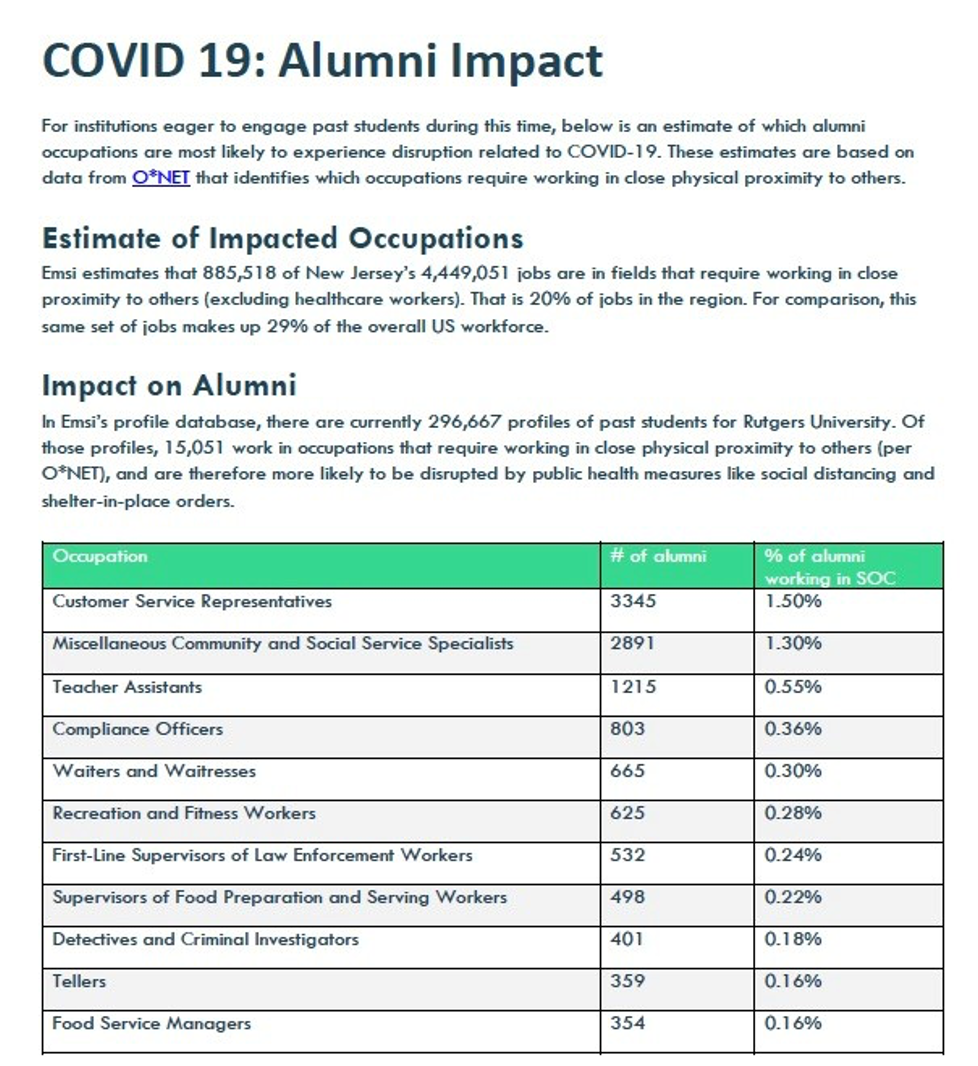 Bottom Line: There is almost zero impact on alumni (0.05 %). If Emsi is looking at the 15,051 alumni (out of 296,667) who might be impacted most due to social distancing, that's 0.05 percent. Not even one percent.
Overall Summary:
This is a time of great uncertainty. COVID-19 is impacting nearly every aspect of life for all humans on the planet. Each day presents a new set of unknowns. That said, expert data-collection tools and associated software are being revamped accordingly—allowing us to more accurately obtain data, interpret it, and, most importantly, present it.