Share this article with Facebook
Share this article with Twitter
Share this article with Linkedin
Email this article

3-D illustration of coronavirus particles. Credit: Jongho Shin iStock, photo ID:1208691882. Upload date: March 02, 2020 Categories: Stock Photos | Virus
When will this pandemic end? When will life go back to normal? When will a vaccine be developed? When will a vaccine be available to the public?
On June 9, 2020, MBS students had the opportunity to attend a two-part virtual forum where leaders in healthcare and the pharmaceutical industry discussed these and other questions.
Moderated by John Carroll—a biotech analyst, journalist, and founding editor of Endpoints News (which covers the biotech and biopharma industries)—the event began with a one-on-one conversation with Laurie Glimcher, president and CEO of Dana-Farber Cancer Institute, and continued with Glimcher joining an esteemed and versatile panel of CEOS, CSOs, and EVPs representing the world's leading pharmaceutical companies:
Zooming in from living rooms, home offices, and other remote locations, these respected and renowned executives discussed how the global health crisis caused by COVID-19 had impacted leadership, decision-making, and operations in their respective organizations. They also discussed how the race to create an effective vaccine has led to unprecedented and profound industry shifts, including:
Improved communications (company-specific and industrywide)
Accelerated decision-making
Streamlined, more efficient processes and procedures
Accelerated action and approvals
These changes, effected by necessity, have led to rapid progress that, pre-pandemic, could potentially have been delayed for years by any number of things.
  THE PANEL DISCUSSION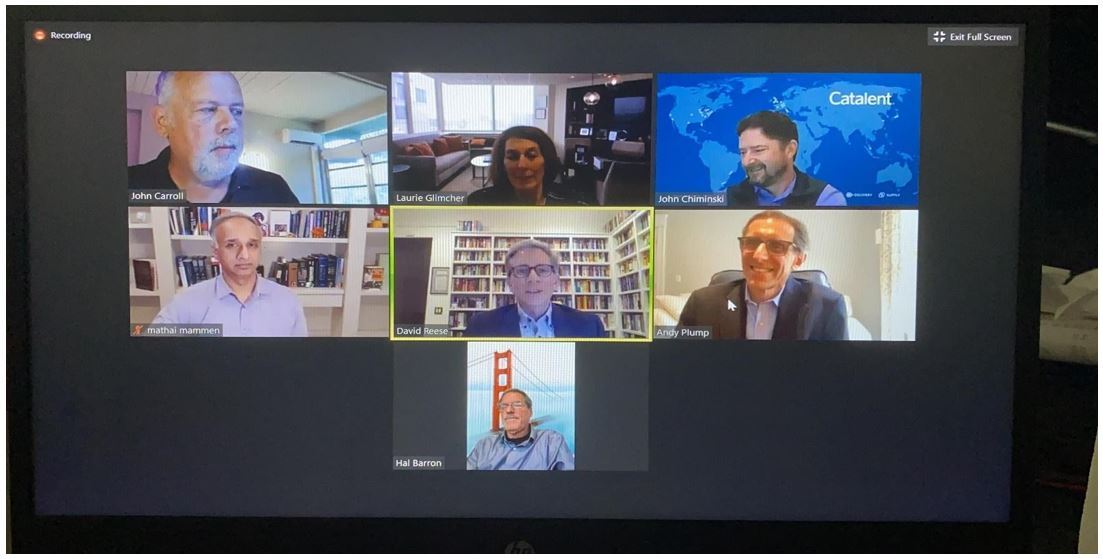 David Reese of Amgen (center, yellow box) answers questions, provides input, and discusses industry shifts with fellow panelists John Chiminski, Catalent; Andrew Plump, Takeda; Hal Barron, GlaxoSmithKline; Mathai Mammen, Janssen Pharmaceutical Companies of Johnson & Johnson; John Carroll (host) founder of Endpoints News; and Laurie Glimcher, Dana-Farber Cancer Institute.
By the time the webinar took place in June, the pandemic had already been in full force for three months, during which time panelists implemented organizational changes and had time to observe, evaluate, and discuss several remarkable, unprecedented industry shifts.

COLLABORATION vs. COMPETITION: Open Communication Among Top R&D Leaders
The pharmaceutical industry is notoriously competitive; however, top-level executives such as Barron, Plump, Chiminski, Reese, and Mammen occupy a very small world in which they all know each other well—becoming collegial and even friendly during their decades of work in the industry.
Each panel member manages multi-billion-dollar portfolios for companies that, pre-pandemic, often competed—very aggressively—for market share on drugs targeted against cancer, cardiovascular disease, and varied neurological disorders, to name a few.
As COVID-19 rapidly spread and situations worsened, the leaders began calling on each other as resources to navigate unimaginable, never-encountered scenarios. "In the beginning," said Mammen, "we were really just checking in with one another. Like, 'are you really shutting down labs? What are you doing? How are you handling this?'" From there, he said, it turned into a more formal and focused effort, spearheaded by Plump, to support and help one another and share ideas on issues related not just to R&D procedures, but on leadership and communications—especially communication with employees. The collaboration has been "just incredible," says Mammen.
"There's also a  great collaborative spirit coming from regulatory agencies," said Plump, "and the FDA has been right on the forefront of that." As for putting aside competition for the greater good, Plump stated:
"This is an 'all hands on deck' moment—the world is facing the greatest public health crisis in a century." Pooling leaders' collective wisdom, he says, "is part of the social contract we have to bring to bear during a pandemic."
As an example of the near-unfathomable collaboration and goodwill among industry leaders, Barron shared an anecdote featuring Roger Perlmutter—executive vice president of Merck & Co., and president of Merck Research Laboratories. Perlmutter ("probably the most respected head of R&D in the industry," said Barron) texted and then called Barron to say that in testing certain agents for potential use against COVID-19, "ours [at Merck] didn't work so well, but yours worked great—you may want to work with that." Barron smiled and shook his head as if still in disbelief. "I love using that story [as an example]."
INCREASED SPEED OF DECISION-MAKING
Efficiencies and flexibility at regulatory entities such as the Food and Drug Administration (FDA) allowed for accelerated development and approval of diagnostic tests, such as a first of its kind saliva test developed at Rutgers (which was subsequently approved for at-home use) and accelerated development of multiple potential vaccines. All panelists agreed that efficient decision-making—something for which the notoriously bureaucratic pharma industry is not necessarily known—became a thing of the past when it came to COVID-19.
"COVID-19 re-introduced to us the critical importance of speed," says Reese. "Every minute is a minute of someone's life. So now, we are making different a calculus about what's the right thing to do, and we are making decisions with some risk inherent in them."
"Speed and collaboration actually are synergistic," said Barron, pointing out that increased communication across the industry had led to vastly improved processes, which Mammen broke down in detail.
The sense of urgency to find a cure as quickly as possible, said Mammen, combined with increased communication, had sped up decision-making at all levels of Johnson & Johnson, the parent company of Janssen Pharmaceuticals. "There's not a senior member of J&J who is not, in a day-to-day-sense, in some way involved with the production of this vaccine – in [its] selection, manufacturing, production, and/or deployment," Mammen says.
The increased speed in decision-making has, in turn, allowed operations to work at a phenomenally accelerated pace. Now, says Mammen,''[we can] do in hours what used to take days and in days what used to take months." Most importantly, company leaders have greatly increased their visibility, says Mammen, "it's very clear to the entire origination that everyone is working as fast as they can."
FREQUENT AND FOCUSED COMMUNICATION TO EMPLOYEES
All leaders discussed how COVID-19 laid bare the critical importance of frequent, open communication to employees, with special focus on three essential messages: 1. Company actions and responsibility; 2. employees' personal responsibility; 3. nonverbal communication / leading by example.
Company Responsibility: Communicating to employees what the company is doing to keep employees safe, and what progress the company is making in general in terms of developing a vaccine or treating the disease. 
Chiminski and Glimcher were particularly strident in emphasizing the need for all individuals—employees, customers, patients—to feel confident and safe coming to a workplace or facility.
"We have 40 facilities and 13,500 employees who need to feel safe and secure coming to work," says Chiminski. "Zoom technology has been an unbelievable aid. We added a weekly 'presser' (info session) for the top 500 company leaders about what we've done [re: safety]—how we are keeping you safe, and what we are doing in general."
Glimcher held a virtual team meeting every Wednesday to address a staff of 5,000 (3,000 of whom regularly tuned in)."I felt it was my job to reassure and thank [employees] again and again [especially] essential staff." 
Employees' Personal Responsibility: Reminding employees of their own personal responsibility outside of the workplace.
Catalent, in particular, is a company supporting most of the well-known vaccine programs. "The message is, 'we are developing and producing essential medicines,'" says Chiminski, who discussed the importance reminding employees that they are part of something important, and that they therefore need to "do the right thing" outside of the workplace. Glimcher and Chiminski both agreed that with all of the extra safety measures taken by their respective organizations, workplaces are actually the safest places to be.
Leading by Example: As Mammen mentioned earlier, all panel members significantly increased their own visibility and company engagement, making a figurative leap from serving as "commanders in C-suites" to being "coworkers in the trenches," which has improved a collective sense of unity and importance throughout panelists' companies .

TAKING RISK-BASED ACTIONS
"All of us around this [virtual] table are paid to think about how to take smart risks for the decisions we have to make," said Barron. Accordingly, with time of the essence as the pandemic wears on and on, "we are now using different [measures to determine] what's the right thing to do," he says, which means taking big risks, "like putting manufacturing capacity to work before we know drugs work, which we don't usually do."
Mammen concurs. "Manufacturing [potential vaccines] before we have human clinical data [is unprecedented]. We are doing things presuming and planning for success, given the extraordinary and exquisite importance of speed."

INCREASED NEED FOR ACADEMIA, INDUSTRY, AND GOVERNMENT TO WORK TOGETHER
All panelists agreed that to mitigate the global impact of COVID-19, there needs to be increased and purposeful communication and collaboration among members of academia, medicine & healthcare, the pharmaceutical industry, and government. As Glimcher pointed out, "sometimes the best discoveries come from academic medical centers," (such as Rutgers) and are then passed as quickly as possible to the pharmaceutical industry which, in turn, works to get them (medicines, protocols) in clinical trials and /or out to patients as fast as possible—but regulatory agencies such as the FDA are responsible for green-lighting (or holding up) that progress. Hence the need for teamwork, with all entities working together toward a common goal.
THE MILLION-DOLLAR QUESTION:
John Carroll asked the panel, in conclusion, how much goodwill and collaboration are expected to transcend the singular effort of working to cure—or contain—the novel coronavirus: "Are these things you're putting in place now applicable outside of COVID-19?"
Reese: "We are looking at what things should be changed permanently. What can be carried forward." Reese says that he and other leaders are also noting what research and projects have been shelved in the interest of working toward an effective COVID-19 vaccine.
"Just as important as what we are doing is what we are choosing NOT to do," he says, explaining, "our success is defined by our prioritization. For all of us with large portfolios, the pandemic has forced us to prioritize—to choose the highest-value activities in moving those portfolios forward. It's really heightened our decision-making. So why should this not be normal? We don't want to go back to previous modes of decision-making."
Chiminiski: "We're keeping a list of what we are doing different from a speed and collaboration standpoint, so that going forward, we don't slip back into the 'old normal' and have months and months of dialogue [with no forward progress]."
Plump [in summary]: "We all have a common enemy—disease," he said. "[So, yes] there are ways to move forward collaboratively as we still compete."

CONCLUSION & TAKEAWAYS
All panelists are leaders at prominent, multitiered organizations; they are responsible for the well-being of employees while also trying to positively impact the population at large. Overall, it was amazing to have the opportunity to get an inside glimpse of what industry leaders at both ends of the pandemic spectrum—those who are treating victims of COVID-19 and those trying to prevent and eliminate a pandemic—are doing to mitigate and, hopefully, eradicate the disease.
We left the event with new information, many new ideas and perspectives, and much more knowledge about research and development in relation to healthcare, medicine, and the pharmaceutical industry.