Share this article with Facebook
Share this article with Twitter
Share this article with Linkedin
Email this article
October 1, 2019, marked the start of National Cyber Security Awareness Month (NCSAM), a joint effort of the National Cyber Security Alliance and the U.S. Department of Homeland Security (DHS) since 2004. This year's campaign focused on drawing attention to careers in cybersecurity—an industry that is growing exponentially and evolving at a rapid pace. As technology becomes more sophisticated, so do the hacking techniques that have resulted in hundreds of thousands of data breaches (theft of sensitive data).
The need for qualified cybersecurity professionals is increasing dramatically to the point where the field is now facing a growing skills gap.  According to U.S. labor market data, postings that mention "cybersecurity" as a skill have increased 192 percent since 2016, and there is now a huge labor shortage as the need for qualified workers continues to grow.

Industry experts agree on three main reasons for the shortage:
Lack of adequately trained candidates
Lack of interest in the field
Lack of awareness of employment opportunities and career paths in cybersecurity
The lack of awareness about cybersecurity career paths is by far the biggest culprit of the shortage—and the most damaging to the industry.
The National Institute of Standards and Technology (NIST)—part of the U.S. Department of Commerce—made a push to increase awareness by sponsoring National Cybersecurity Career Awareness Week from November 11 through November 16, 2019.
Meanwhile, the industry is overflowing with opportunity:
The industry enjoys a zero percent unemployment rate.
Cybersecurity professionals with a bachelor's degree command an average salary of $116,000. Professionals with advanced degrees can command twice that amount.
The Bureau of Labor Statistics reports that jobs in this field are projected to grow 32 percent over the next decade—much faster than the average for all occupations.
WHAT ARE THE JOBS?
According to Emsi, an organization that generates labor market data covering more than 99 percent of the workforce, the top ten job titles are as follows:
Security Engineer
Security Analyst
Information Security Analyst
Cyber Security Engineer
Security Architect
Network Security Engineer
Information Technology Security Analyst
Information Security Specialist
Information Security Engineer
Security Manager
WHAT INDUSTRIES HAVE THE GREATEST JOB DEMAND?
Cybersecurity jobs aren't just for tech companies. For years, the industry has been perceived as a niche segment of the tech field. However, in today's rapidly growing job market, positions range from the highly technical to nontechnical jobs in sectors such as marketing and management.
Emsi lists the five industries with the greatest employment needs as follows:
#5. FINANCIAL SERVICES. This industry falls prey to cybersecurity attacks 300 times more frequently than any other industry: "The typical American business is attacked 4 million times per year," reports Forbes magazine. The typical financial services firm is attacked 1 billion times per year.

#4. THE INFORMATION INDUSTRY. This industry is regarded as one of the most critical economic sectors as it leverages innovation and productivity across nearly all other industries.

#3. MANUFACTURING: Several of the top companies advertising cybersecurity positions are in the defense sector, including Lockheed Martin, Northrop Grumman, and General Dynamics.

#2. ADMINISTRATIVE /SUPPORT/WASTE MANAGEMENT /REMEDIATION SERVICES: It's not just emails and databases that are vulnerable to breaches, "it's the power grid, traffic lights, water purification systems, and all other critical infrastructure that's plugged into the internet," states a recent industry article. "One sophisticated attack could bring many vital aspects of society to a grinding halt."

#1. PROFESSIONAL, SCIENTIFIC, AND TECHNICAL SERVICES: This sector includes accounting, engineering, computer services, advertising, scientific research, and more.
WHAT SKILLS ARE NEEDED?
The bulk of job postings continue to request software skills such as Java and Linux, but more and more employers are seeking candidates with specialized skills such as management and soft skills such as communication.
TOP SOFTWARE SKILLS
According to Emsi, the most requested software skills are as follows: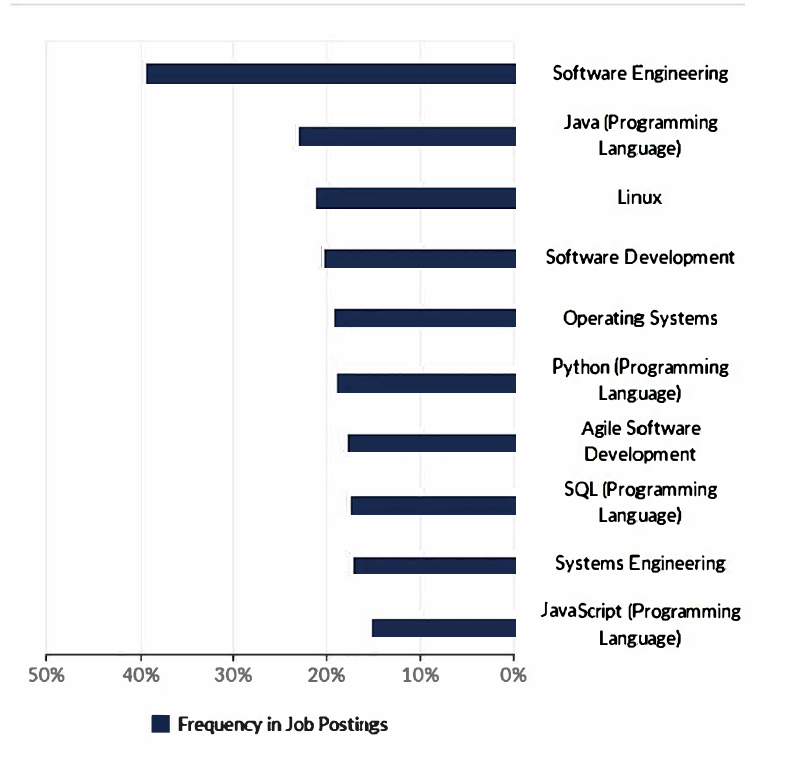 TOP SPECIALIZED /COMMON /HARD SKILLS
Below are the top ten most-requested common skills, with "management" clocking in at number one, as noted in a recent report, the Top 10 Skills In Demand at the Top 10 U.S. Companies.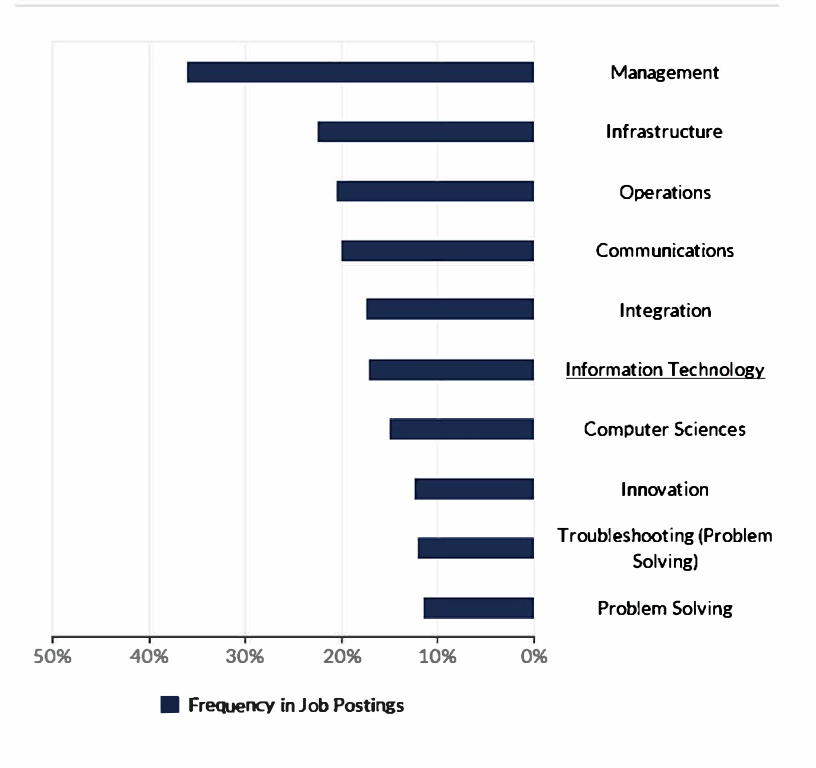 TOP SOFT SKILLS

When we think about cybersecurity, most of us immediately think of technology; however, human skills such as communications, leadership, and problem-solving are among the most in-demand across all labor markets right now, and cybersecurity is no exception.
"It's good to remember that cyberthreats are based on psychology as much as technology," notes one industry article.

Communication leads the way as the interpersonal skill most requested by employers. Communication also ranks as the most transferrable and valuable skill to possess—for life in general, and for any career path or position you will ever hold. According to data compiled by Burning Glass, the top soft skills sought by employers are as follows: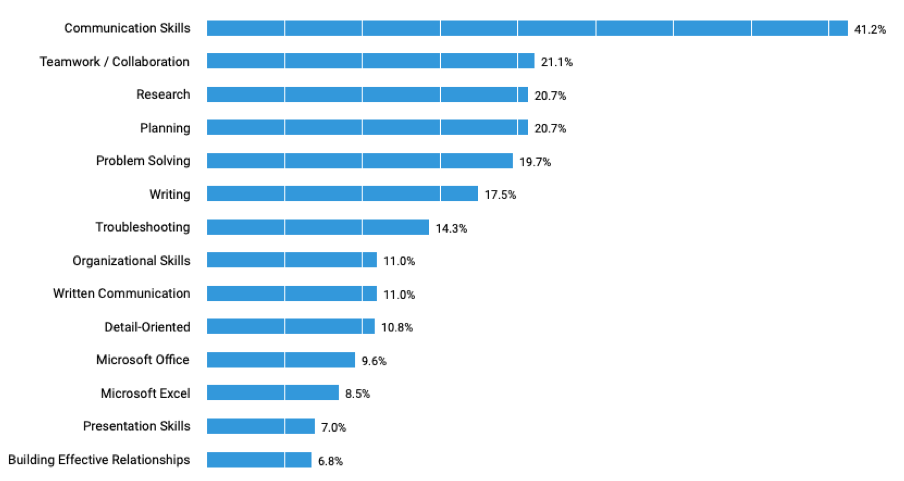 WHERE ARE THE JOBS?
Cybersecurity jobs are most heavily concentrated in four metro areas that are also home to the industries investing most heavily in cybersecurity: Washington, D.C. (government/military), New York City (financial), San Jose, California, and San Francisco (technology /Silicon Valley).
The graphic below—provided by EMSI— shows which cities currently have the most job demand, and how that demand has changed over the last two years.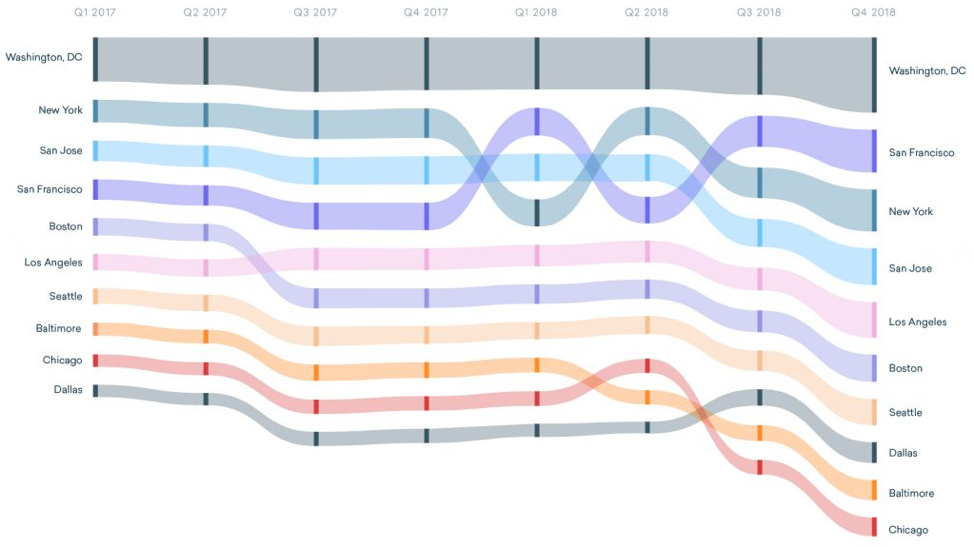 ---
CONCLUSION:

Nearly every industry has been impacted by a major data breach; cybersecurity job demand is at an all-time high, and growing. Employers in every sector—from retail to manufacturing to finance—are seeking qualified professionals to fill a skyrocketing number of positions.

The cybersecurity job landscape is dynamic, changing literally day to day—and workers from nearly every profession can find a lucrative niche in which to work.
METHODOLOGY
Data for this report was based, in part, on information provided by EMSI via their article, Five Things You Should Know About Cybersecurity. Emsi's data was supplemented with information acquired from industry-specific articles and by employing an analytics tool called Labor Insight from Burning Glass Technologies. Together, Emsi and Labor Insight software scan hundreds of millions of job postings each day. This report pulled job market data for cybersecurity positions advertised between December 1, 2018, and November 30, 2019. By mining the detailed information stored in these job postings, we can determine what employers are looking for when they fill roles in the cybersecurity sector.
Note: While Emsi and Labor Insight analytics can identify trends in the job market, the unstructured nature of job postings does add a margin of error for data reporting.