Share this article with Facebook
Share this article with Twitter
Share this article with Linkedin
Email this article
The words, "So, tell me about yourself!" can leave even the most polished professional tongue-tied; as we are often not sure what information to share about ourselves. 
In a professional context—whether it's no-pressure networking or a high-stakes job interview—how you answer this question is critical to carving your career path. And on October 15, 2021, MBS students learned a unique way to respond: instead of recapping what they've done and  / or what they're currently doing, they learned to start the conversation with where they want to be.
LEADING WITH YOUR DESTINATION
In the workshop (titled and based on the LinkedIn Learning series by Jodi Glickman), MBS executive coach Abbe Rosenthal, MA, PCC, showed students how to effectively pitch themselves by connecting their "destination" (what they want to achieve in life) with their backstory –creating powerful pitches to use during interviews, when networking, when giving presentations, or just to have on hand for the next time they are asked, "So, tell me about yourself!"
HOW TO LEAD: BREAKING IT DOWN
KNOW WHERE YOU'RE GOING
In order to lead with your destination, you need to know exactly where you want to go, and you need to be able to clearly articulate that vision to others. As a starting point and/or pulse-check, say Glickman and Rosenthal, you should be able to easily answer three questions:
Why am I here?
What am I trying to achieve?
Where do I want to be?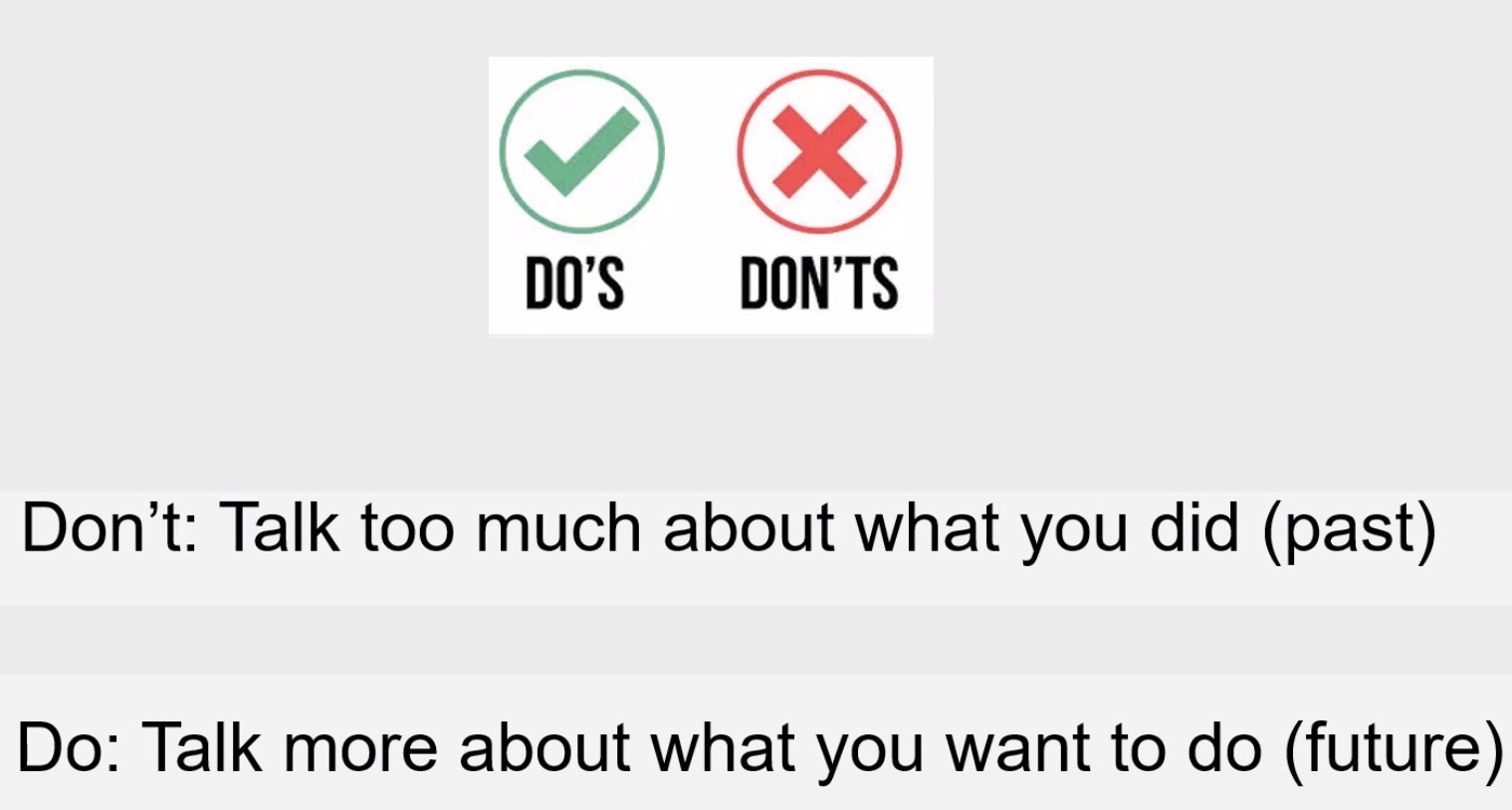 TURN MONOLOGUE INTO DIALOGUE
The goal of your pitch, say Glickman and Rosenthal, is actually not to get the job or promotion, but to engage the other person—shifting from monologue to dialogue. 
Why? To get to the next step –a second interview, another meeting—by piquing the other person's interest by from shifting from talking only about yourself (monologue) to creating a dialogue (two-way conversation), where both speakers interact.
Leading with your destination, and talking about where you want to be, is an effective method of changing the conversation. (See below.)
LINK YOUR DESTINATION (where you want to be) BY CONNECTING RELEVANT PARTS OF YOUR PAST
The key part is linking your purpose—where you want to be—with a supportive backstory that emphasizes relevant experience and/or transferable skills from your background. One factor which influences the convincing capability of a pitch is the belief in oneself. Successfully and coherently connecting the dots between "destination" and "backstory" in an empowered way is what makes this technique successful—it engages the listener, and creates a lasting impact.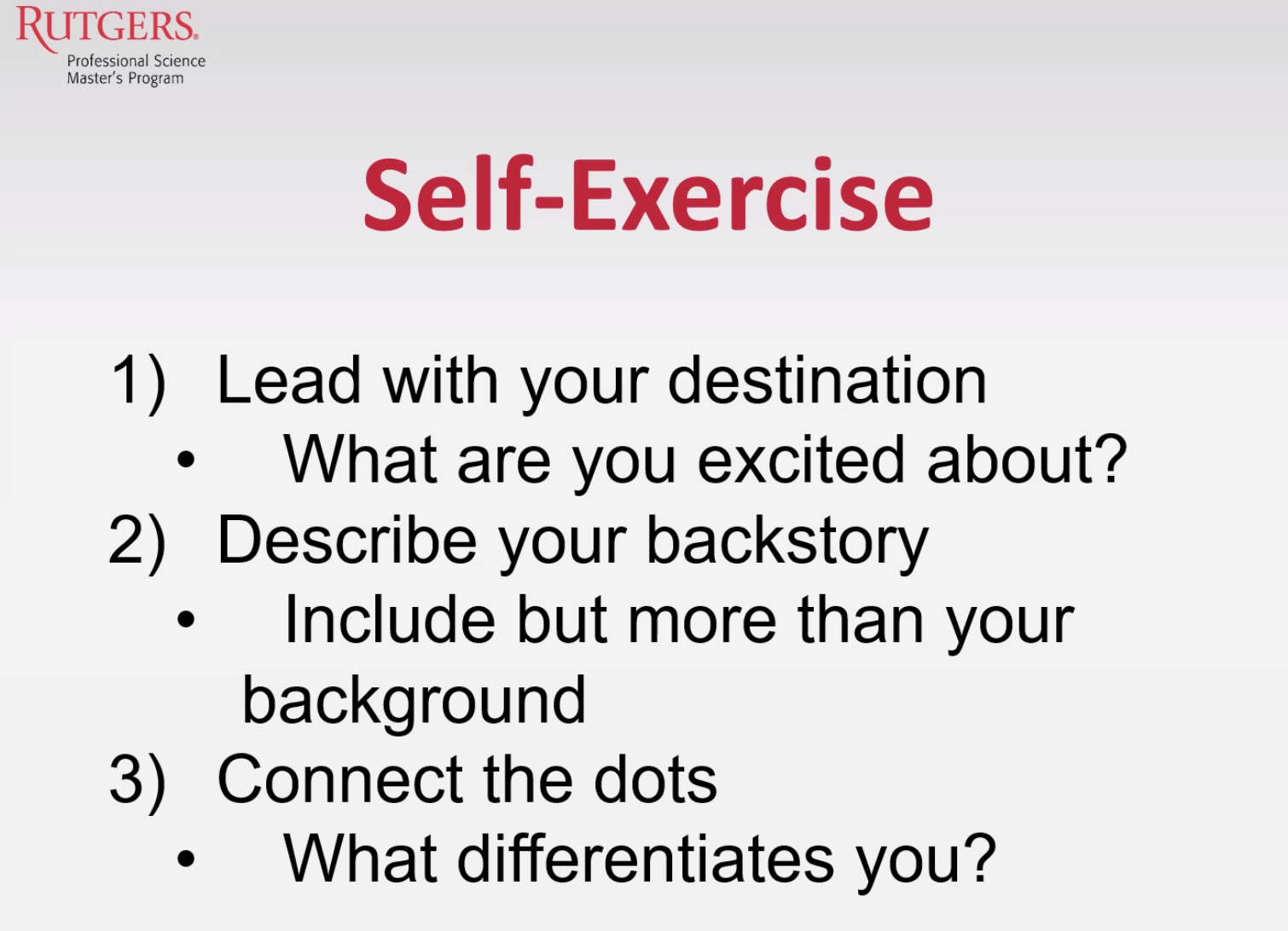 As with all learning at MBS, there was immediate application of the technique as students broke into virtual chatrooms to complete a self-exercise and practice linking their future goals with relevant parts of their past.
Students reconvened to share their experiences practicing linking their backstories to their destination, and  discussed how they might apply these skills in their next conversation—thinking about what they want to accomplish and why, how to incorporate relevant parts of their background, and then connecting those dots all the way to a new opportunity!