Share this article with Facebook
Share this article with Twitter
Share this article with Linkedin
Email this article
On February 14, 2020, our MBS Externship Exchange team visited Bentley Labs in Edison, New Jersey, for a company tour and to meet with our project mentor, Matt Brennan MBS'17, Senior Manager, Business Excellence and Analytics.
Bentley Labs is a formulation and manufacturing partner whose main objective is to bring the customer (beauty brands) and the consumer (general public) closer by bridging the gap through business solutions that include everything from improved formulations to revamped marketing plans and branding strategies. The project our team is working on mainly focuses on analyzing the company portfolio of products and comparing it with the current market trends. All of our team members possess diverse backgrounds ranging from personal care science to biotechnology, pharmaceutical engineering, and data science, which makes us a perfect workforce for the project.
Matt, who earned his MBS degree with a concentration in Drug Discovery & Development, gave us a tour of the plant during which we saw the production line for lotions and lip balms as well as the quality-control testing lab. Matt allowed us to explore product samples as well as ask any questions regarding the daily workflow. His comprehensive explanations about every step of the process—from developing the initial formulations to strategizing ultimate product placement on store shelves—gave us a great understanding of all the effort that is put into producing just one single item, such as a bottle of moisturizing lotion. Moreover, Matt shared some of the day-to-day challenges the company faces and the amount of time and resources that are necessary for bringing a successful product to life. Overall, we as a team felt welcomed during our visit, which was eye-opening and brought more clarity to the project. We are grateful to Bentley Labs and the Rutgers MBS Externship Exchange program for giving us this opportunity.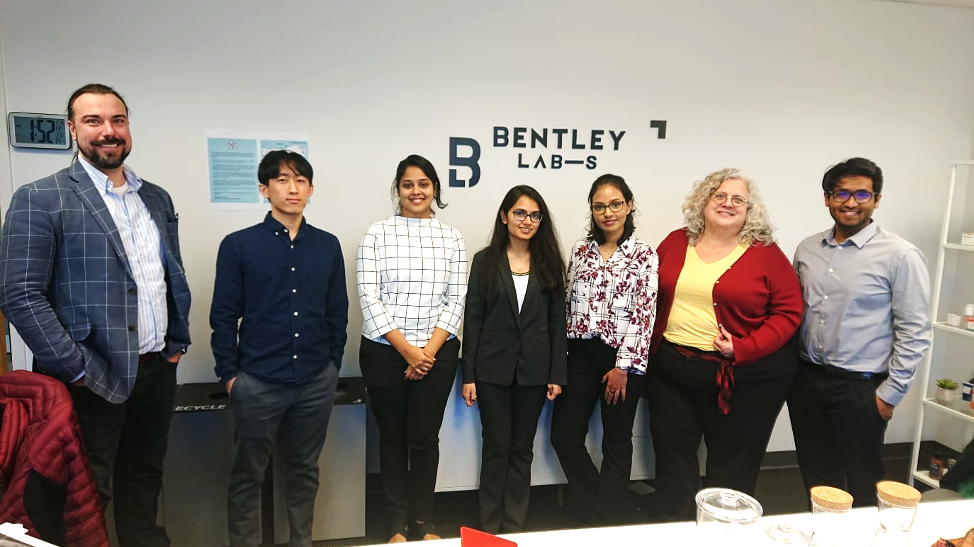 Spring 2020 MBS Externship Exchange team for Bentley Labs with Matt Brennan, Senior Manager, Business Excellence and Analytics (far left). From left: Brian Yi (Discovery Informatics & Data Science), Revathi Nair (Personal Care Science), Shivangi Singh (Biotechnology & Genomics), Anusha Gunti (Biotechnology & Genomics), Externship Exchange Program Advisor, Karen Bemis, and Digvijay Ghare (Pharmaceutical Engineering).