Share this article with Facebook
Share this article with Twitter
Share this article with Linkedin
Email this article
One of the most rigorous yet valuable aspects of earning a Rutgers Master of Business and Science (MBS) degree is the focus on experiential learning: the constant application of classroom instruction in real-world situations, both in regular coursework and via formal programs such as MBS's Graduate Internships Program—through which 11 students applied their integrated science and business knowledge this summer.
In dynamic Zoom presentations held on Monday, August 9, interns outlined how they applied their academic and professional skill sets to their respective companies—describing how their internships impacted their overall career readiness, what skills they learned or honed, and how they were able to build relationships throughout their internships, and how all of these elements ultimately drove their success.
Led by MBS executive coach Kathleen Cashman-Walter, the Graduate Internships program not only connects students with some of the world's top companies, but 86 percent of all internships are either extended or converted to full-time employment. (Cashman-Walter also developed and instructs MBS's signature Communications & Leadership course).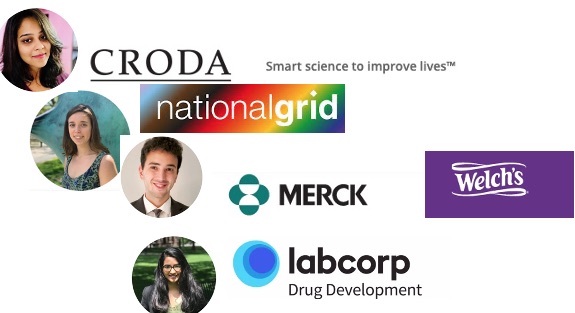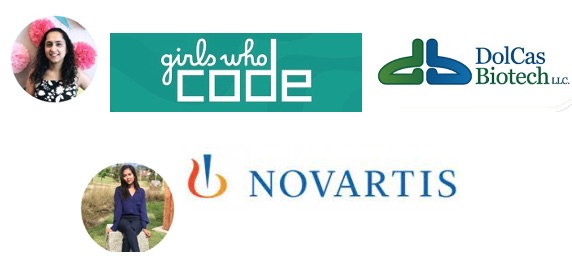 Interns and the companies for which they worked. Clockwise from top left: Revathi Nair, Croda; Chinmoyi Bhushan, Girls Who Code; Shenin Siddiqui, Novartis; Nupur Kadam, Labcorp; Evan Mangone, Merck; Madeleine Ferguson, National Grid.
The presentations focused on the "value exchange:" the value that students gave to their organizations by applying their MBS education, and the value that the interns gained by gaining knowledge and skills throughout their internships.
Representing the full spectrum of MBS's academic concentrations, interns also identified which MBS courses were most relevant to their experience. "Tonight is about their journey, and where their journey can take them," said Cashman-Walter. The presenters were as follows (in order of appearance):
· Revathi Nair /  Personal Care Science – Croda International
· Madeleine Ferguson /  Analytics – National Grid
· Evan Mangone / Analytics – Merck
· Shenin Siddiqui /  Biotechnology & Genomics – Novartis
· Chinmoyi Bhushan / User Experience Design – Girls Who Code
· Nupur Kadam / Drug Discovery & Development – Labcorp
· Yu-Han Lan / Drug Discovery & Development – DolCas Biotech
· Shaily Parmar /  Food Science – Welch's
Michael Cantatore* / Biomedical Engineering –MTF Biologics
Zeal Dholakia * / Pharmaceutical Engineering –Lannett
Annapoorani Muthuraman* / User Experience Design (UXD)– EZOPS
*not presenting
All of these students added great value to the companies for which they worked," says Cashman-Walter. And when you can do that, she says, it not only increases the scope and value of your professional experience, "it expands your network and makes it more likely that you'll get hired." Even if that doesn't happen right away, she says, "it makes it far more likely that an ideal opportunity will open.