Share this article with Facebook
Share this article with Twitter
Share this article with Linkedin
Email this article
October 2021—a month to recognize and celebrate the accomplishments of female entrepreneurs and small business owners everywhere!
Lessons From The Experts
October's personal care science symposium, MBS's Ethnic and Regional Considerations in Personal Care Sciences: A Scientific and Business Perspective, ended on a high note, with an incredible entrepreneurial roundtable featuring industry disruptors Cenita Williamson, Tracy Kearse, and Angela Ivana—innovators who identified great needs in different markets and took various entrepreneurial journeys to fill those gaps.
The event was moderated by Lori Dars, Associate Director of Economic Development and Innovation for Rutgers University—a longtime champion and spearheader of entrepreneurship and innovation initiatives universitywide—and was introduced by MBS Academic Officer and Life Sciences Concentration Coordinator, Beth Ann Murphy, Ph.D., who co-created and co-hosted the symposium along with personal care industry expert and adjunct professor Kristina Kannheiser, who leads MBS's signature Personal Care Applied Science Laboratory course.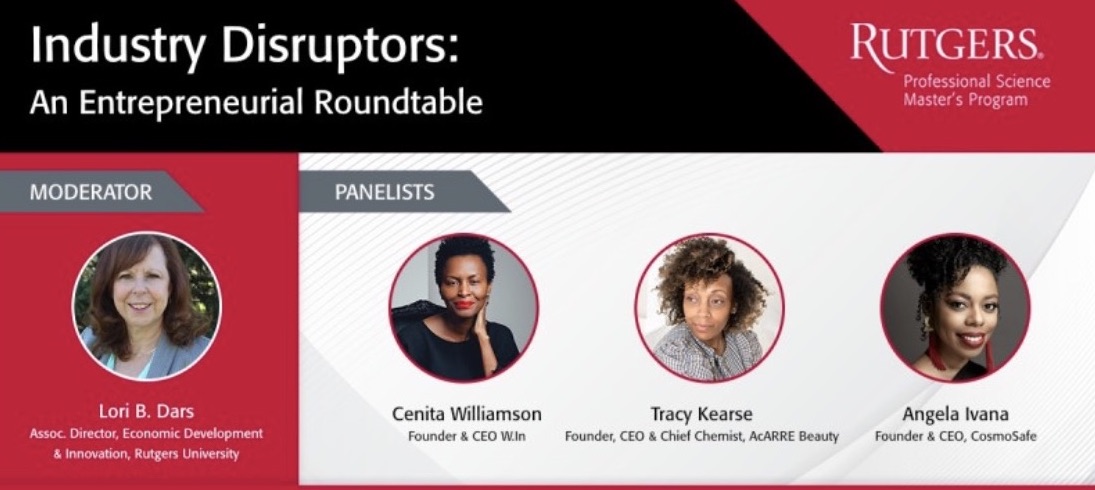 Incredible Entrepreneurs. Individual Journeys
Panelists had diverse professional backgrounds and, of course, different catalysts for choosing their individual paths of entrepreneurship. But all three women shared passion, drive, great belief in themselves, and deep commitment to their mission and vision. Below are top takeaways.
Top 10 Takeaways:
You need confidence, conviction, and perseverance: confidence in your product, belief in yourself, and perseverance to navigate the unexpected situations that inevitably arise.
Be prepared to financially invest in your business—it's a lot harder to pitch to investors if you haven't made a personal investment in your product or venture yourself. If you are unable to make a personal investment, wait until you can.
Do your research to find available funding sources such as grants and small loans – there's a lot of money out there just waiting to be found and /or applied for, say panelists.
Don't be afraid to ask friends and family for help investing. If it's a product or service you truly believe in, and they see your conviction and vision, say panelists, "they will figure out a way to give you $20."
NETWORK, NETWORK, NETWORK!
And keep building your network. Put yourself out there, attend events, and volunteer for opportunities. Don't wait for opportunity to come knocking. Go out and find it.
Learn the innerworkings of business, finance, and the overall landscape for your product. 
Learn the art of pitching. To succeed as an entrepreneur, you have to be an amazing salesperson and be able to sell your vision and your brand to potential investors and customers—which is not hard if you believe in your product and in yourself.
Realize that entrepreneurship is very, very hard work. But panelists wholeheartedly agree: "You can absolutely do it if you have the right mindset, and the right tools and resources."
Know your strengths and know your weaknesses—and compensate for those weaknesses by either honing the expertise you need, or enlisting someone who has those skills.