Share this article with Facebook
Share this article with Twitter
Share this article with Linkedin
Email this article

3-D illustration of coronavirus particles. Credit: Jongho Shin iStock, photo ID:1208691882. Upload date: March 02, 2020 Categories: Stock Photos | Virus
When will this pandemic end? When will a vaccine be available to the public? Is it safe to keep doctors' appointments for non-critical issues?
On June 9, 2020, MBS students had the opportunity to attend a virtual forum where some of the most influential leaders in healthcare and the pharmaceutical industry discussed the impact of COVID-19 on patient care and vaccine research and development (R&D), respectively.
Hosted by John Carroll - a biotech analyst, journalist, and founding editor of Endpoints News (which covers the biotech and biopharma industries)—six CEOS, CSOs, and EVPs Zoomed in from living rooms, home offices, and other remote locations to talk about how the unprecedented global health crisis caused by COVID-19 had impacted decision-making and companywide operations in their respective organizations.
The six participants included:
The two-part webinar began with a one-on-one discussion with Dr. Glimcher.
Carroll dove right in, asking, "Dr. Glimcher—I'm wondering if there was a moment in time...in which you realized, 'this is it. This is really happening,'" and Glimcher, a renowned physician-scientist, administrator, and immunologist, vividly recalled the dizzying early days of the pandemic—the sheer rapidity and increasing seriousness of the situation.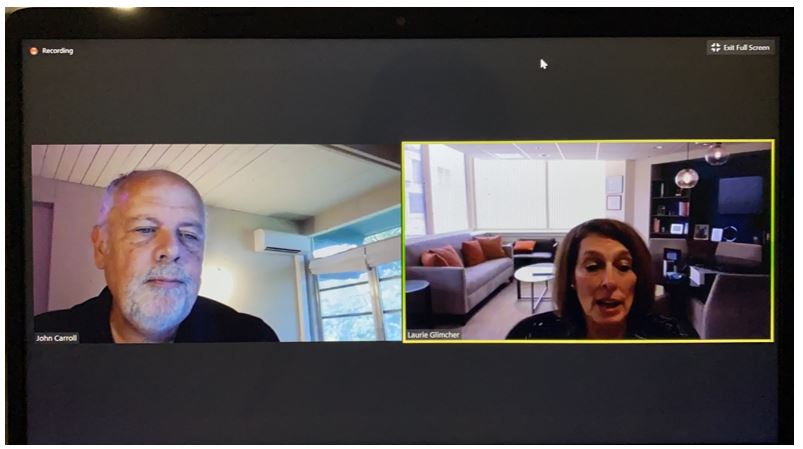 Event host John Carroll (l) and Dr. Laurie Glimcher, president and CEO of Dana-Farber Cancer Institute, discuss the challenges of treating patients during COVID-19.
Dana-Farber Cancer Institute, a world-class center with more than 5,000 employees, is located in Boston, Massachusetts—a state that by April 2020 was deemed a COVID-19 hotspot. With cancer patients being highly susceptible to the disease (cancer treatments cause immunosuppression), and with age being the biggest risk factor for both cancer and COVID-19, Dr. Glimcher and her staff were almost immediately in the throes of the pandemic—trying to maintain patient and staff safety while suddenly treating two cohorts of cancer patients: those with COVID-19 and those without COVID-19.
With ongoing treatment critical for patients' survival, Glimcher and her staff not only needed to keep patient visits uninterrupted and safe, but they needed to evaluate—case by case—which patients could continue to receive treatment and which patients could (and would have to) wait. When Carroll asked if she was ready for something like COVID-19, Glimcher said, "you had to be ready; there was no other choice," adding, "you learn from a pandemic how quickly you can get yourself ready…within days."
Like all healthcare professionals, Glimcher and her staff faced an initial, dire shortage of personal protective equipment (PPE), with Glimcher making as many calls as possible to secure additional supplies. Nonetheless, many staff were triaging and treating patients without adequate protection for themselves.
Glimcher readily acknowledged the increasing emotional toll—on her staff, on patients, and on patients' families—as the disease became more widespread. Staff worked exhaustive hours and, at one point, were the only individuals able to stay with patients in their final moments: spouses and immediate family members were prohibited from visiting or staying bedside, even as loved ones lay dying.
That Dana-Farber was able to continue to offer world-class patient care—and, in most cases, offer uninterrupted treatments—was no easy feat, and Glimcher credits the extraordinary dedication and teamwork of her staff as the reason the institute was able to successfully maintain treatments and quality, cutting-edge medical care. She described a highly collaborative work environment with a strong company culture of "patients first," where staff members worked together toward the common goal of providing safe, continuous patient care—doing whatever needed to be done to keep business operations afloat and medical treatments running uninterrupted. However, she said that staff also prioritized looking out and caring for one another.
Glimcher pointed out that while it's easy to be shaken by the pandemic, cancer doesn't stop spreading. Throughout the pandemic, she said, "we've never taken our eye off the ball" of focusing on cancer treatment and research. "We've continued to recruit new scientists, to work hard on early detection, and to increase immunotherapy (currently only used in 20% of cases)."
Thankfully, said Glimcher, while clinical trials for many diseases were suspended in light of COVID-19, cancer treatments were exempted because at least 20% of patients depend on those trials to increase their odds of  survival.
Unfortunately, says Glimcher, while ongoing, cutting-edge care is critical to patients' survival, early detection is even more critical—most Stage I cancers can be successfully treated. Yet throughout the pandemic, there has been a 95% drop in patients making and keeping appointments for annual exams such as pap smears / pelvic exams, mammograms, and screenings for prostate cancer. This means that cancers such as cervical cancer, breast cancer, prostate cancer, and colorectal cancer will be caught at later stages and much more difficult to treat.
The biggest challenge, Glimcher says, is convincing patients that it's safe to come to the institute and that it's imperative to continue regular screenings – not postpone them. With all of the newly implemented health precautions and procedures related to patient safety, she says, Dana-Farber Cancer Institute is probably one of the safest places to be.
Carroll concluded by asking, "So when this is all over…when COVID-19 is [in the past], is the Dana-Farber post-COVID-19 going to be significantly different from the Dana-Farber pre-pandemic?" Glimcher responded that procedures and protocols will be different in that they will be much more efficient.
THE FUTURE of PATIENT CARE
In addition to making operational changes out of sheer necessity, says Glimcher, there were plenty of lessons learned throughout the pandemic that will ultimately improve efficiency and quality of patient care both at Dana-Farber and throughout the health profession going forward. Following are two of the most significant changes:
Increased Practice of Telemedicine/Virtual Patient Care: One of the major changes in the healthcare industry was a universal, near-overnight shift to telemedicine. At Dana-Farber Cancer Institute alone, says Glimcher, virtual healthcare visits skyrocketed from around 20 visits per week to roughly 3,000 per week. Glimcher stressed that virtual visits, because they remove travel strain, are better from a healthcare standpoint for non-critical patients.  In fact, up to 50 percent of non-critical patients opted for virtual visits when offered the choice.
A Remote Workforce: Dr. Glimcher said that out of 5,000 staff members, around 60 percent of employees were able to work remotely. Even after return-to-work conditions can be realistically evaluated, employees who will be asked individually about their preferred workspace—whether they wish to continue working remotely or would prefer returning to a physical office. 
CONCLUSION: In short, the COVID-19 pandemic did not deter Dr. Glimcher and staff at Dana-Farber from delivering first-class healthcare while also introducing efficiencies that not only ensured the health of their patients and visitors, but might also have long-term, positive effects on healthcare delivery.