Share this article with Facebook
Share this article with Twitter
Share this article with Linkedin
Email this article
Face-to-Face Job Opportunities: Leveraging Rutgers Professional Science Master's Program
On Tuesday, February 4, and Wednesday, February 5, 2020, Rutgers University held its biannual Career & Internship Mega Fair at the Louis Brown Athletic Center (RAC) on Livingston Campus. Hosted by the Office of Career Exploration and Success, the event—which ran from 11 a.m. to 3:30 p.m. both days— was well-attended by more than 300 employers hiring for both technical and nontechnical positions, seeking students of all majors and concentrations for internships as well as full-time positions. Employer booths lined rows that filled the entire main floor of the RAC, with participating companies ranging from large, Fortune 500 corporations such as Amazon, Johnson & Johnson, Vanguard, and Lockheed Martin to smaller regional firms and organizations such as Columbia Bank, the Dallas Police Department, and the Philadelphia Water Department.
Many students arrived well in advance of the 11 a.m. start time to beat the lines that notoriously form at some of the larger corporate booths. But getting in line early proved advantageous as the booth aisles quickly filled up by noon each day. Despite the building traffic, Chrisie Fong of The Nature's Bounty Co. (dietary supplements) elaborated, "We're getting great traffic and a diverse set of students looking for internships and full-time positions."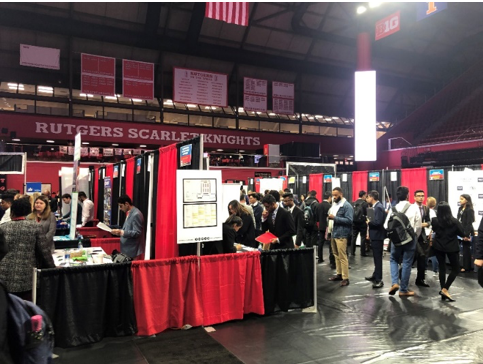 The event was well-attended by employers and students, alike. Students arriving early to beat the rush still encountered long lines prior to and during the event.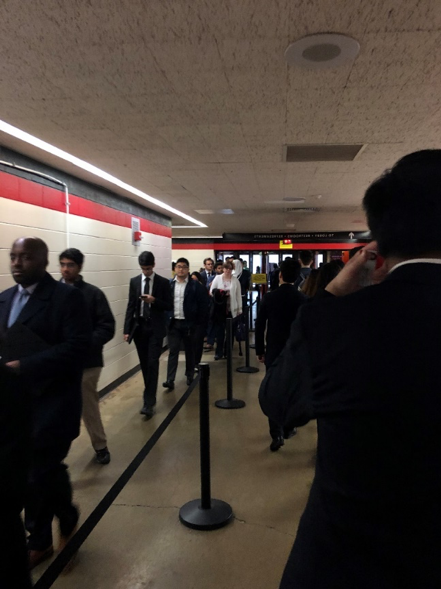 A line of roughly 75 to 100 students snakes out the door about ten minutes prior to the event.
For an MBS student like myself, it was reassuring to see companies like The Nature's Bounty Co., and to see almost every scientific industry well-represented. There were plenty of co-ops, internships, and full-time positions available for students of any MBS concentration, across many sectors, including: aerospace, biotech & life sciences, defense, internet & software, CPG (consumer packaged goods), food & beverage, and pharmaceuticals.
Prospective employers I spoke with were very interested in Rutgers Professional Science Master's program and the Master of Business and Science (MBS) degree. Using the MBS program/degree as a main talking point, I was able to professionally differentiate myself and felt like an appealing candidate in many conversations. The face-to-face time with prospective employers was worthwhile, and preparation and practice from both the previous week's MBS Career Development Workshop and my fall 2019 Principles of Communication and Leadership course proved extremely valuable.
Searching for jobs in 2020 can be difficult when resumes get submitted into "black holes" of career web portals with few, if any, responses. It was refreshing to get in front of human resource representatives and hiring managers from various companies in a setting like the Career & Internship Mega Fair. 
With face-to-face interaction opportunities becoming less frequent with career web services like Glassdoor, Indeed, and ZipRecruiter, I am grateful that the Office of Career Exploration and Success hosts events such as these. And for an MBS student, there was no better place to stand out in a diverse and plentiful scientific job-hiring setting.