Share this article with Facebook
Share this article with Twitter
Share this article with Linkedin
Email this article
How remote experiential learning teaches real-world problem-solving—and generates viable company solutions—through academic-industry partnerships.
By: Jen Reiseman-Briscoe
In March 2020, when COVID-19 upended higher education and experiential learning programs nationwide, Bianna Cruz had some decisions to make. 

Cruz, a student in Rutgers Master of Business and Science (MBS) program, was serving as a team leader in MBS's Externship Exchange, heading a website redesign for the town of New Wilmington, Pennsylvania. The project was only partially finished, the team had not yet visited the town, and continuing that project in light of a pandemic did not seem practical, says Cruz. Her teammates agreed, and, tabling the assignment, she says, "we made a hard pivot." Bookmarking the web project, the team instead launched an all-hands-on-deck effort to assist New Wilmington's residents—particularly, its small businesses—in any way they could. "There was no other choice, to be honest," said Cruz. "The point was to help the town in some way; now you have [COVID-19] that's not only impacting the town, but the whole country and the world. In my mind, it's 'what do you need me to do?'"
The team researched and short-listed grants, helped strategize and implement a curbside pickup system for restaurants, and helped develop and implement an idea for online "shop local" baskets—ultimately creating an internet ordering system that allowed consumers to purchase items from multiple stores and then have items shipped or delivered in one convenient bundle. The town is still using the students' research and marketing ideas, and the project is ongoing.
Impressively, all Spring 2020 Externship Exchange projects continued without interruption, and, on April 28, 2020, the program's 72 students and 14 partner organizations—companies including L'Oréal, Citi Ventures, and Colgate-Palmolive—were featured at a virtual poster presentation session.  
Innovation and Growth During a Pandemic

In all, the work and ideas of more than 300 externs have resulted in viable business solutions for companies including Ricoh, L'Oréal, Church & Dwight, and Siemens; some have been incorporated into national initiatives, such as a 2018 partnership with the New Jersey State Police to analyze ballistics data, which yielded information that now is part of the Bureau of Alcohol, Tobacco, Firearms, and Explosives (ATF) national training program.
In the age of COVID-19 and all-virtual learning, the Externship Exchange continues to flourish, with 126 students working on 26 projects this summer alone.
"Experiential learning has always been a hallmark of the MBS program," says Deborah Silver, Ph.D., executive director of Rutgers Professional Science Master's program, through which the MBS degree is offered. "Our strong academic-industry partnerships and active alumni base enable MBS students to gain real-world work experience with guidance from industry experts." In light of a new and indefinite work-from-home/remote-learning culture with a rapidly changing STEM-based workforce, the Externship Exchange is more relevant than ever, says Silver, noting that many externships were already conducted online or were easily transitioned to remote platforms when higher education shifted to 100 % virtual learning in March.
"Our externs—many of whom are working professionals—are not only gaining new experience during this unprecedented time, but they can draw on and share their own experiences," says Silver. "The STEM-based labor force is ever-changing and ever-innovating; our students get to be part of that—on the cutting edge of that."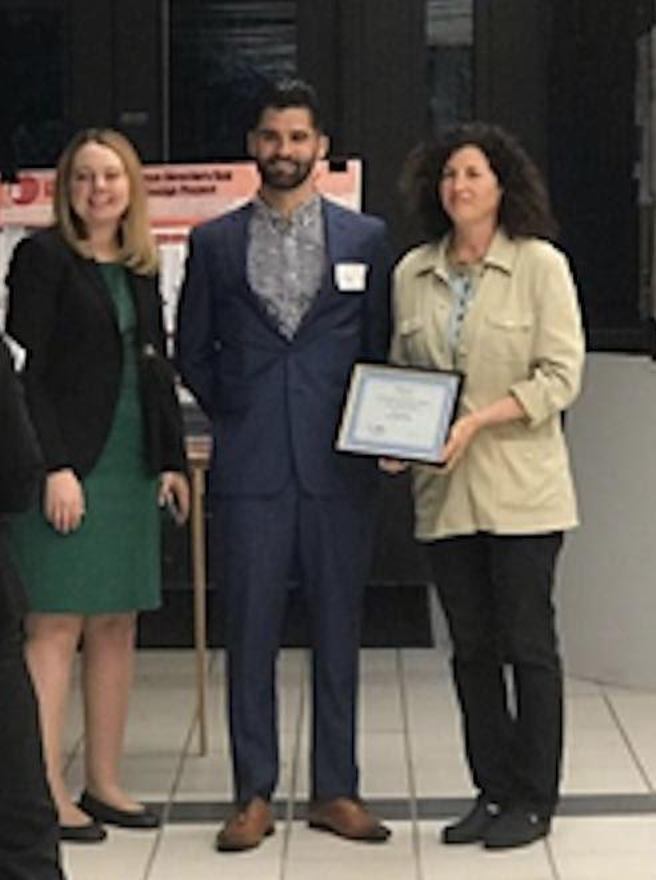 Dr. Christie Nelson, Director, MBS Externship Exchange (L) and Dr. Deborah Silver, Executive Director, Rutgers Professional Science Master's Program (R), present awards at the Spring 2019 Externship Exchange poster presentations.
What, Exactly, Is an Externship? 
"It's a small, collaborative, multidisciplinary team project," summarizes Christie Nelson, Ph.D., director of the Externship Exchange, which connects students with industry experts via company projects submitted by more than 45+ partner organizations. 
Using a solution-based approach (also known as design thinking), MBS externs work in multidisciplinary teams of two to nine students, applying science-based knowledge to tackle a range of innovative, company-specific challenges—all non-hypothetical issues. Externs have analyzed clinical data, developed social media strategies, built web platforms, evaluated cyber-vulnerability, and analyzed data on topics ranging from supply-chain sustainability to New Jersey gun crime. 
Projects can be related to any MBS concentration. Accordingly, partner organizations span a spectrum of industries, including personal care (Johnson & Johnson), medical technology (Stryker), nonprofits (Sesame Workshop), law enforcement (New Jersey State Police), healthcare (Robert Wood Johnson Medical School), transportation (Conrail), and entertainment (Vydia), as well as Rutgers-affiliated units including the Food Innovation Center and Rutgers Recreation.
Externs gain valuable work experience, and employers are able to assess the viability of projects for which a company or department may not have the bandwidth or budget. However, the value of the Externship Exchange extends beyond the obvious win-win for employers and students. The program is rigorously structured—each project a real-world, high-level challenge that requires externs to employ teamwork, creativity, critical-thinking, active listening, cooperation, and compromise as they work together throughout a semester to problem-solve their way toward a solution. What makes the program particularly unique is its core focus on academic-industry mentoring: externs complete assignments under the guidance of both a company mentor and an MBS academic advisor. 
"The externship experience mirrors what happens in organizations," says L'Oréal mentor Angelike Galdi, Global Vice President, Head of L'Oréal Technology Incubator Cosmetic Formulation, whose large team of externs had wide-ranging academic concentrations including engineering, biotechnology & genomics, personal care science, and business. "[It] reflects the diverse perspectives that exist on my own team at L'Oréal."
How it Works

Externship projects are completed remotely, from start to finish, over the course of a semester, and teams are arranged to be as multidisciplinary as possible. Cruz's own three-person team consisted of Cruz—whose academic concentration was in user experience design (UXD)—and teammates with academic concentrations in food science and biotechnology & genomics, respectively. 
The diversity of academic backgrounds and work styles drives creative problem-solving for sure, says Cruz, a May 2020 MBS graduate. "The Externship Exchange encourages thinking outside the box as much as possible," she says. "When you're collaborating and strategizing as a team—when you're compromising on decisions and looking at issues from multiple perspectives, and even dealing with conflict or disagreement—you're utilizing skill sets that you might not think are necessary to succeed in your career path, but they actually are."
Andrew Wegrzyn can attest to the significance of externs' contributions as well as the efficacy of harnessing a diverse set of perspectives to drive creative, actionable solutions.
Last spring, Wegrzyn, then Vice President, Strategy and Partnerships for Citi Ventures, mentored three separate teams of externs—all of whom were tasked with helping improve user experience for Citi customers in three separate locations: Boston, Detroit, and Jersey City: "All groups addressed the same issue," he said, "but each group was very different in their approach." Additionally, all teams had viable solutions.
Of most value, says Wegrzyn— now a strategy and analytics consultant for Edward Jones—"was looking at each pathway—at all of the different pathways—you can take to address the same problem." Wegrzyn says that such diverse perspectives and different yet equally effective solutions can help companies like Citi Ventures create and improve both internal and external design processes.

Mentor Andrew Wegrzyn (center) talks with externs including Bianna Cruz (right), who won the Externship Exchange "Outstanding Team Leader" award for her work with the Town of New Wilmington, Pennsylvania, in spring 2020.
Galdi's project—which focused on the intersection of beauty care and technology—was highly complex; it was also well-rounded. "Externs performed consumer and market research, technology and intellectual property (IP) assessment, design thinking, and product proposal development," says Galdi. Further, "they applied problem-solving, team collaboration, communication, and presentation skills," she says, just as they would at L'Oréal.
Structuring Success Through Professionalism and Leadership Training
Many students join the externship program to broaden and diversify their professional experience, and, as the program has expanded, so has the level of dedicated professionalism mentoring and training sessions. Weekly "Leadership Labs" offer detailed discussions and coaching for issues including team-building, conducting research, peer-to-peer networking, and—closer to the semester's conclusion—how to present a successful poster pitch. 
Extern Jack Fioretti, a team lead who documented his experience in a blog: MBS Externship Exchange: Real-World Problems, Student Solutions, and Real-World Application, says he originally joined the program to develop his professional leadership skills and diversify his resume. However, "I also learned more about the personal care industry, a field that—with my academic concentration in biotechnology & genomics—I hadn't yet considered for a career path."
In May, Fioretti's team presented their findings and proposals to a corporate panel of L'Oréal executives, with the chance that results could be further investigated by L'Oréal's R&D team. "It was an amazing opportunity to create a presentation for such a distinguished audience," Fioretti says.
In job applications and interviews, MBS externs are able to reference their experience—showcasing the advanced level of problem-solving, the prestige of partner companies, and feedback from company mentors—which has led to jobs for many students and allowed them to shine in their new positions, says Nelson. "One student said that during the first week in a new job, her boss recognized her leadership skills and actually asked her to train the entire team on how to run a meeting, how to organize a meeting agenda, how to give a solid weekly update, and how to give a concise presentation," she says, adding, "that was great feedback to hear—not just that the students feel their training was valuable, but their new employers feel that way as well."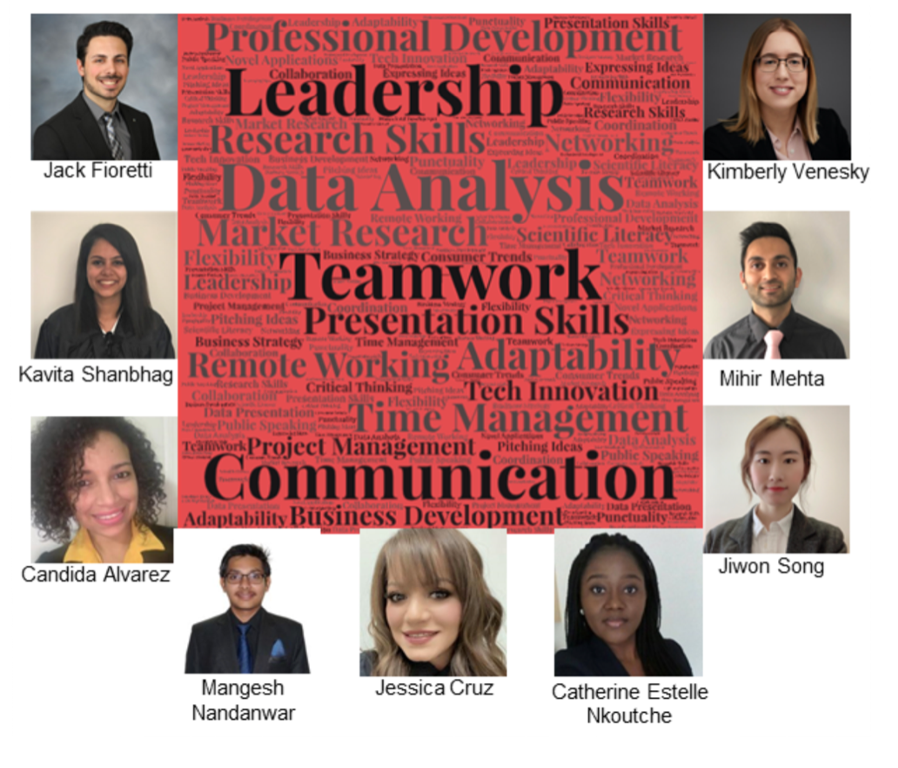 Jack Fioretti (top left) and his teammates on the L'Oréal externship project, including co-leader Kimberly Venetsky (top right).
Growth During a Pandemic… and Beyond

The Externship Exchange was especially relevant (and resilient) during the initial weeks of COVID -19's impact this spring, says  Externship Exchange assistant director, Karen Bemis, Ph.D., who attributes this summer's record number of  participation requests—from both companies and MBS students—to years of extensive planning and executing remote coursework for the MBS program itself. 
Cruz has a different perspective: "When COVID-19 happened, the world was already changing as far as how we see technology and how we achieve things. Working remotely, learning online—these things were becoming more common, and some people even preferred it," she says. "In March, when everything was moved to a digital platform, that's where externships excelled," she says, adding that experiential learning programs such as internships required participants to be on location.
Productive Partnerships

In 2018, the Externship Exchange forged a partnership with Rutgers Honors College, offering coveted spots to select undergraduates. This summer, the program expanded the number of spots offered to Honors College students in order to accommodate those who lost summer jobs or internships in light of COVID-19. This fall, the program will also be extending the externship opportunity to a limited number of students from 16 institutions of higher education that comprise the New Jersey Big Data Alliance.
In the meantime, the MBS Externship Exchange continues to evolve to prepare externs for an ever-changing employment landscape in STEM-based, science-intensive fields. In the words of one extern who completed the program, "I would recommend that every MBS student participate [in an externship]; it bridges the gap between having success as an MBS student and ultimately having success as a post-graduate industry professional."
While MBS students will continue to be automatically accepted and placed into the program, non-MBS students will undergo a rigorous application process and interviews. "We're expanding," says Nelson, "but in a way that we're comfortable with the number and caliber of students who are being added." This is good news for MBS students, says Fioretti, who feels that MBS students should take full advantage of all MBS has to offer – particularly, valuable programs such as the Externship Exchange.
For more information about the MBS Externship Exchange, visit https://mbs.rutgers.edu/externships.
About Rutgers Master of Business and Science Degree:
Rutgers Master of Business and Science degree is offered universitywide through Rutgers Professional Science Master's program. The degree is awarded by the graduate schools on all three campuses: The School of Graduate Studies (New Brunswick), Rutgers Graduate School–Newark, and Rutgers Graduate School–Camden.