Share this article with Facebook
Share this article with Twitter
Share this article with Linkedin
Email this article
Searching for a job is an important part of every student's life, but the process can be time-consuming and stressful. One of the great opportunities Rutgers University offers is the Career Fair, which enables a student to meet more than 200 employers at the same place and on the same day. However, failing to prepare equates to preparing to fail. Students who prepare in advance have higher chances of success than others. In order to help our MBS students achieve greater success with their job search, Abbe Rosenthal conducted two workshops to prep students to face their challenges confidently. 
During the workshop, she elucidated the following to help the students to understand the job search process:
Expect the Career Fair, which is open to the entire Rutgers student community, to be crowded with huge lines just to drop off our coats. As a reward for engaging early, Fast Pass is offered to students who register for it or for those who attend workshops offered by Rutgers Career Services. 
Remember the first impression could be the best impression: being sufficiently hygienic could make or break deals. 
Resume and business cards act as a gateway pass to enter an organization. Abbe Rosenthal does a great job with critiquing students' resumes. Her insights are very valuable as she helps us to highlight our skills and present them in a professional manner. 
Take notes regarding the opportunities discussed with the employers at the Career Fair. Sending them a thank-you mail could differentiate you from the rest. 
Last, but not least, is the elevator pitch. The workshop helped the students to practice their elevator pitch with one another and prepared them for the upcoming Career Fair. 
The job search process does not end with the Career Fair. Students should make use of the Handshake portal, which is the official portal offered by Rutgers Career Services, to apply for more job opportunities and achieve their goal of working in their dream company. This workshop was a good opportunity to know what to anticipate and how to react at the fair.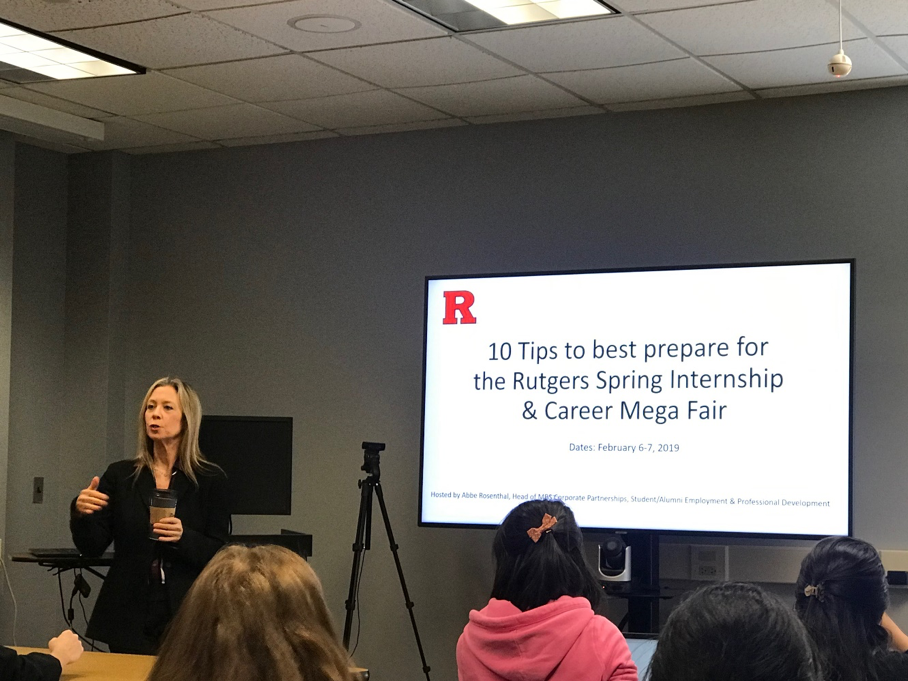 Abbe Rosenthal presenting the 10 tips to prepare for Rutgers Career Fair and internship opportunities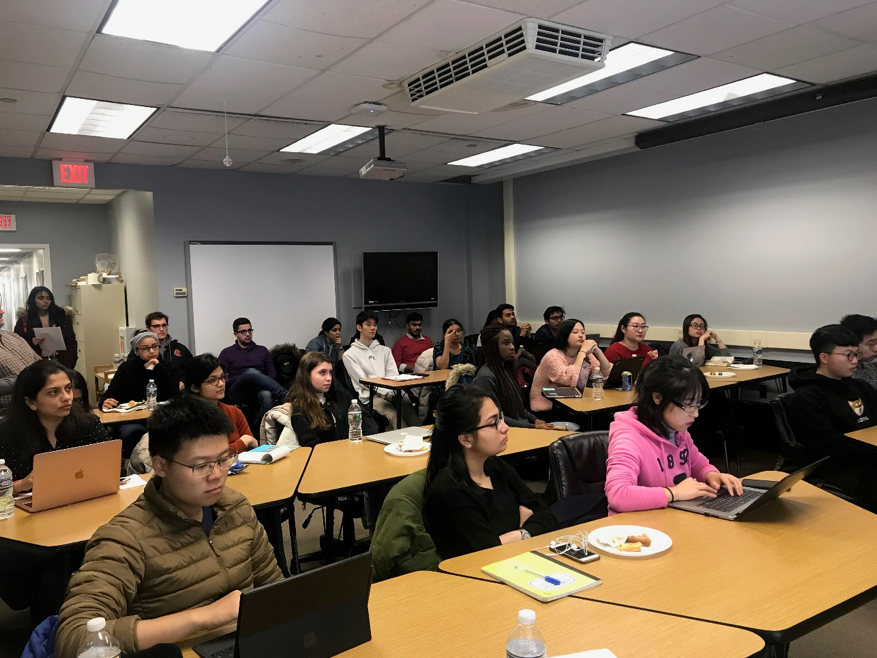 Students keenly listening to Abbe Rosenthal's presentation