Share this article with Facebook
Share this article with Twitter
Share this article with Linkedin
Email this article
Day one of the long-planned PCS symposium "Ethnic and Regional Considerations in Personal Care Sciences: A Scientific and Business Perspective," was absolutely amazing, with a star-studded lineup of personal care and beauty industry experts who shared their extensive experience and scientific knowledge from years of research in the area of skincare.
After MBS executive director Deborah Silver gave attendees a warm welcome, Beth Ann Murphy, MBS's Academic Officer and Life Science Coordinator, shared a larger introduction of the genesis and purpose of the event, via a talk—"A 10,000-Foot View with a Focus on Inclusivity"— about the inspiration for and spirt in which the symposium was created.
The day's presentations ranged from the scientific (anatomy and physiology skin of color/ challenges of formulating color cosmetics for inclusivity) to lively breakout sessions of great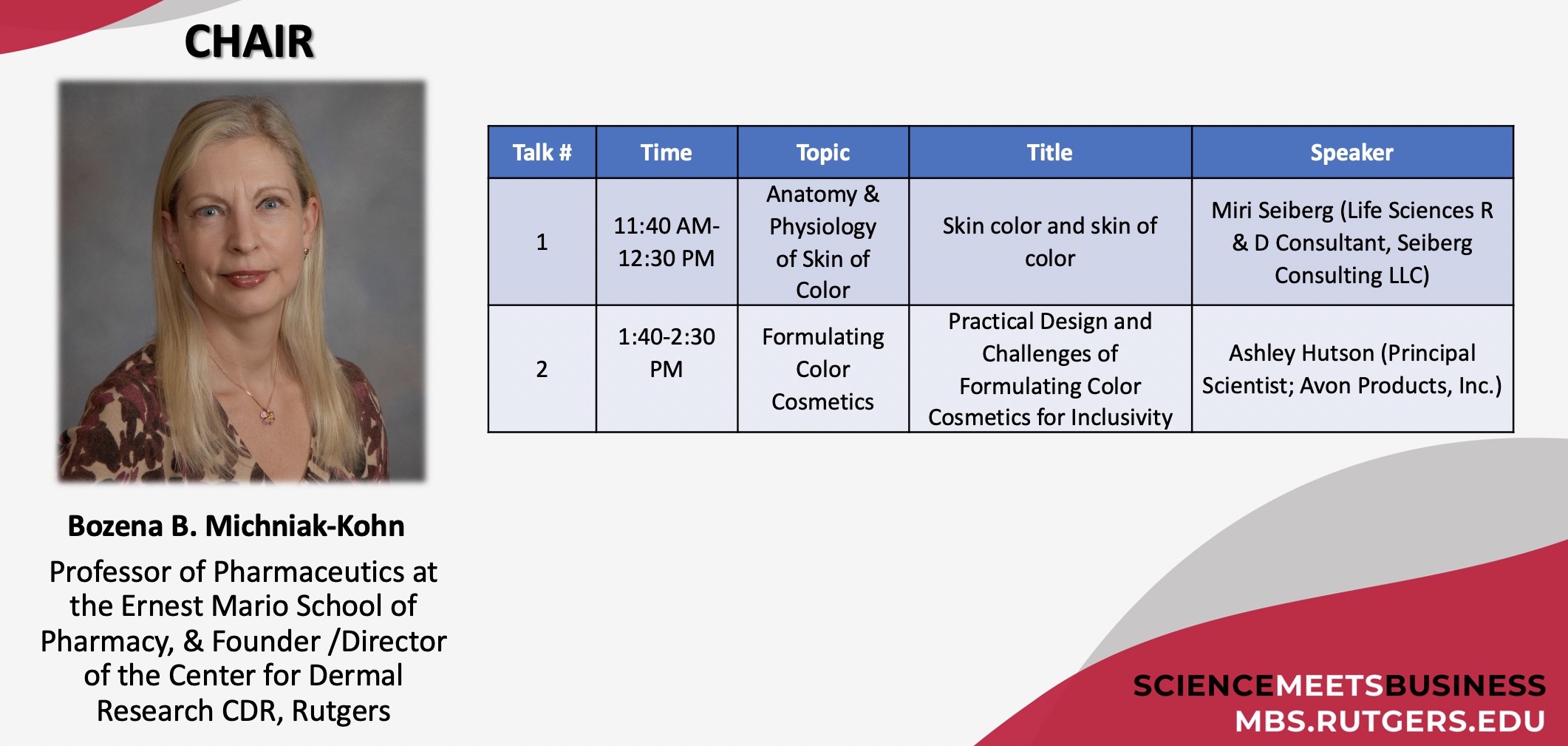 interest, including Communication for Scientists, "Making a Leap from the Lab [ to the business world]"—featuring a panel of MBS alums and students who did just that— moderated by the lively and beloved MBS instructor Ricardo Diez—to the benefits of society memberships, to a speed networking event hosted by MBS executive coach Abbe Rosenthal.​
Stellar Scientific Talks
Rutgers University's very own Bo Michniak-Kohn (pictured above), Professor of Pharmaceutics, Ernest Mario School of Pharmacy and Founder /Director of Rutgers' Center for Dermal Research, introduced the day's speakers.
Scientific Session #1: Skin Color and Skin of Color –Miri Seiberg, Life Sciences R&D Consultant, Seiberg Consulting
Dr. Seiberg began her presentation by referencing a point in time hundreds of thousands of years ago when all humans on earth shared the same dark skin color and lived on one continent– she then described how and why skin color / skin pigmentation evolved over time, as well as the racial (biological) and ethnic (behavioral) properties of skin as related to structural, cellular, and molecular differences (inherited traits), as related to health and beauty desires and practices (acquired behavior) and other biological properties of skin of color and the impact of different physiological responses of skin–such as to UV exposure, wound healing, and skin aging.
BREAKOUT SESSIONS:
Scientific Session # 2: Practical Design and Challenges of Formulating Color Cosmetics for Inclusivity–Ashley Hutson, Principal Scientist, Avon Products, Inc.
Expert speaker and Rutgers University alumna Ashley Hutson DC'07, a principal scientist from Avon, finished out the afternoon with a thought-provoking discussion of the unique considerations that scientists need to take into account when creating color cosmetics for all shades of skin tones, including how different elements—the hot, humid weather of Brazil, for instance—can impact the chemical properties, appearance, and staying power of certain compounds and materials necessary for creating cosmetics, as well as other challenges of creating skincare formulations.
Day one of the PCS collaboration—the result of a collaboration between Murphy and industry expert / MBS instructor Kristina Kannheiser—was a huge success, with all participants ready for Day 2.