Share this article with Facebook
Share this article with Twitter
Share this article with Linkedin
Email this article
Over three days last week, students, faculty, and alumni from Rutgers Master of Business and Science (MBS) program's Personal Care Science concentration had the fantastic opportunity to network and connect with industry leaders and each other while showcasing MBS program excellence during the New York Society of Cosmetic Chemists (NYSCC) Suppliers' Day, held at the Jacob Javits Convention Center in New York City on Wednesday, November 10, and Thursday, November 11, with a virtual day on Friday, November 12.
NYSCC Suppliers' Day—the premier industry event in all of North America— features the latest products and innovations in the cosmetics and personal care industry, hosting hundreds of companies and thousands of industry professionals from all over the world. This year, in particular—after an 18-month in-person hiatus—the center was buzzing with excitement as representatives from companies large and small engaged with students from a colorful booths filled with creative and interactive displays.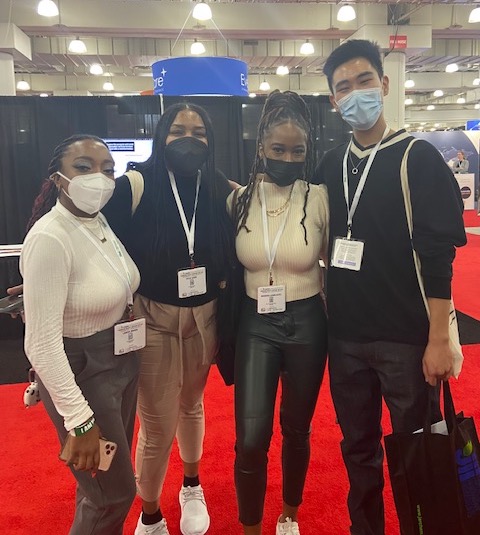 MBS's Abbe Rosenthal and Beth Ann Murphy were on hand to greet prospective students as well as an army of interested employers, and were joined by industry expert and adjunct professor/ MBS instructor Kristina Kannheiser and several MBS alumni, including Manessa Lormejuste, a cosmetic chemist, product developer, and mentor who has frequently returned to MBS to serve as a panelist, cohost, and guest speaker.
Best of all, several MBS students were honored for their extraordinary scholarship and industry work, including Lanesa Mahon, Jessenia Castro, and Dejour Waite.
This event provided an excellent opportunity to network, learn about the industry, and even collect free samples. (Note: the event also required proof of vaccination and masks.) The event will be held again in May 2022, and we can't wait to return!