Share this article with Facebook
Share this article with Twitter
Share this article with Linkedin
Email this article
Symposium: 
Ethnic and Regional Considerations in Personal Care Sciences: A Scientific and Business Perspective
Day two of the personal care science conference wrapped on a high note with an incredible entrepreneurial roundtable (more below), which was preceded by three fantastic talks with topics ranging from suncare product regulations, to creating suncare formulations for all skin tones, to hair needs and products for diverse consumer groups. 
Event co-creator and co-host, industry professional, and adjunct professor Kristina Kannheiser, who also leads MBS's signature Personal Care Applied Science Laboratory course, welcomed the audience back for "Symposium Part II" on October 7, and then introduced alumna Nadine Goldman MBS'15 for the first talk of the day.
STELLAR SPEAKERS
Topic: Key Regulatory Considerations for Sun Care Products
Speaker: Nadine Goldman MBS '15, Regulatory Director, Tula Skincare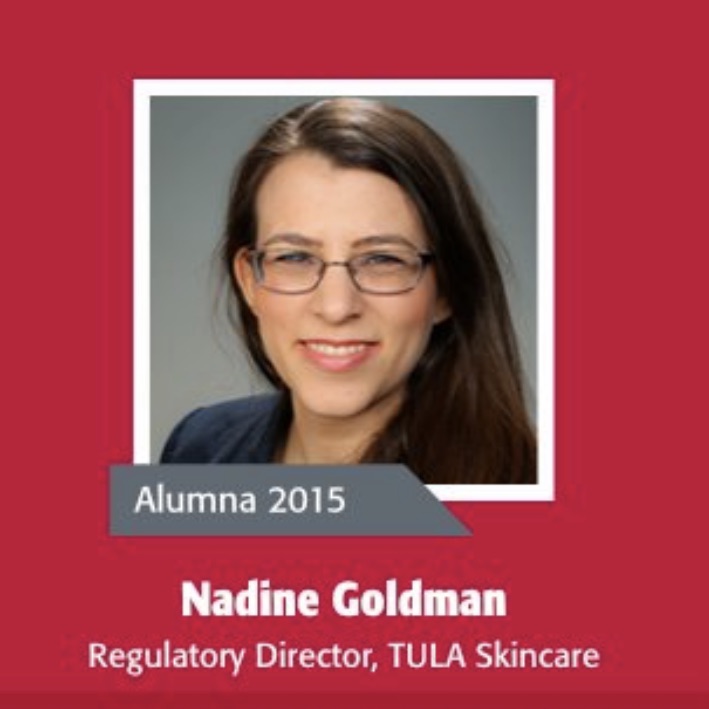 Goldman's presentation—which she described as "a whirlwind tour of the regulatory landscape"—highlighted key regulatory considerations for suncare products in both the U.S. and global markets. Goldman also gave a brief overview of rulemaking history—explaining what wording, claims, and ingredients are and are not allowed, and explaining how U.S. and international testing and labeling requirements differ. She also discussed growing public awareness and consumer concerns about issues ranging from impurities in skincare ingredients to ocean pollution and reef bleaching related to sunscreen—Hawaii has already enacted legislation on that front. Finally, she referenced the ever-changing ever-evolving nature of the regulatory landscape, where rules, regulations, and guidelines are "often passed in a moment of time—sometimes it's a situation of 'let's wait for more data,' and sometimes it's not."
Topic: Optimizing Inorganic UV Formulations for Clarity on the Skin
Speakers:  Michael Lull (Technical Service Specialist, BASF), Nicole Paraszczuk (Technical Service Specialist – Skin Care and Sun Care, BASF; Current MBS Student), Clifford Milow (Group Leader – Technical Service, Skin/Sun Care, BASF)
Zinc oxide and titanium dioxide are considered to be the safest and most sustainable ingredients for sun protection; however, these same ingredients have historically not been formulated with skin diversity in mind, and, therefore, many products do not blend well into skin of color—often leaving an unpleasant residue and a white cast. With many advances in particle science and dispersion technology, this no longer has to be the case when using these materials. And with sun protection more important than ever, the group also discussed a consumer gap that exist for adults of color (addressed below), and how it is critical to find and utilize formulation techniques that can minimize white casting and improve overall aesthetics in the final product while still providing maximum efficacy.

Topic: Hair Product Formulation Across the Globe  
Speaker:  Jasmine Martich, Senior Chemist, L'Oréal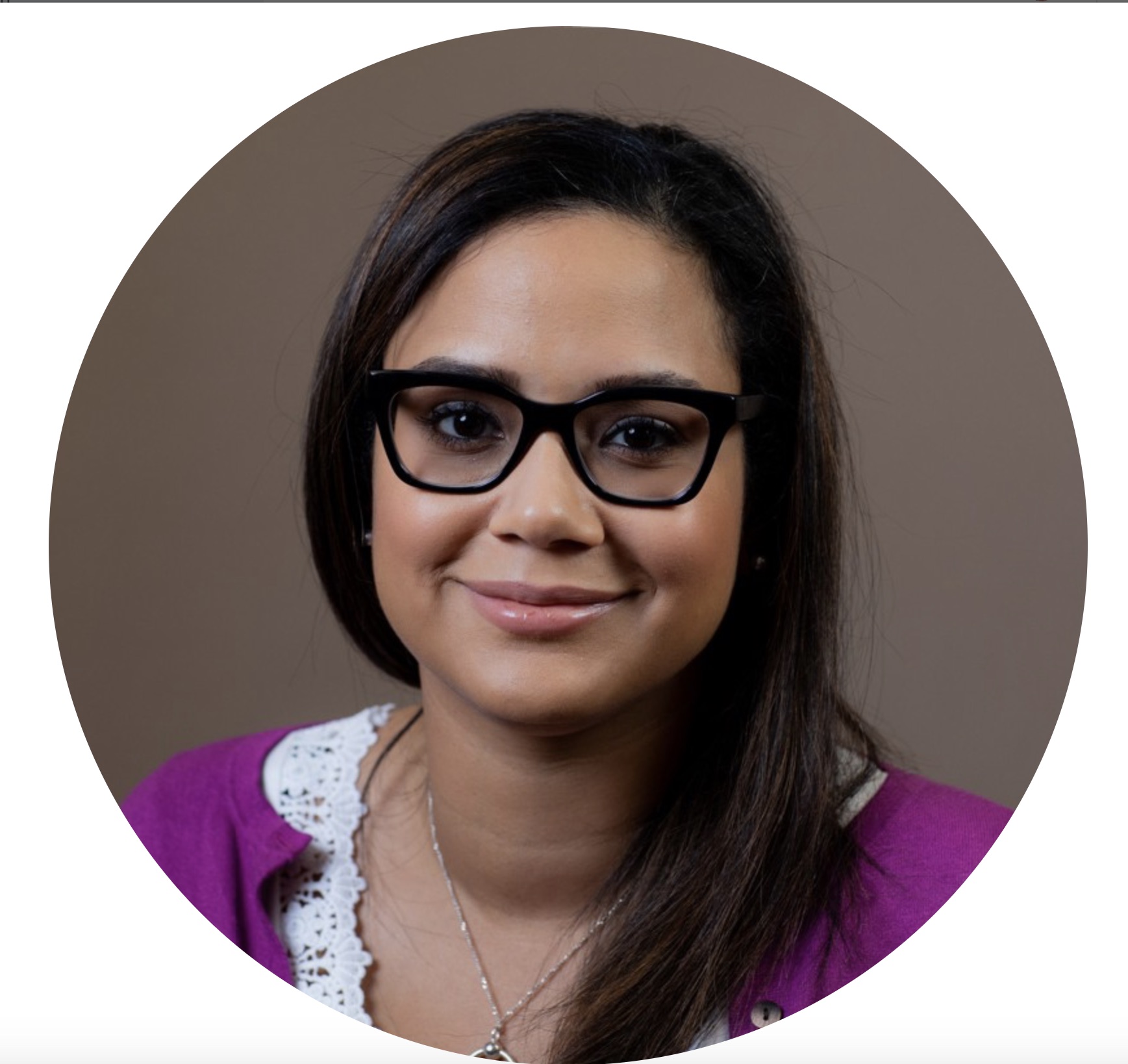 Martich, who has 10 years of product development experience in the consumer packaged goods (CPG) industry, has developed three patent-pending technologies specifically for multiethnic hair. In her lecture, she discussed three broad hair categories—Asian, Caucasian, and African—as well as the specific challenges, needs, preferences, and products for consumers in each of the three markets. Martich discussed the unique considerations necessary when creating product formulations for each hair type, as well as the major needs, popular regimens, and greatest concerns among each consumer group—particularly hair damage, and its causes and influences on purchases.
Inspiring Disruptors, Amazing Innovators: An Entrepreneurial Roundtable Discussion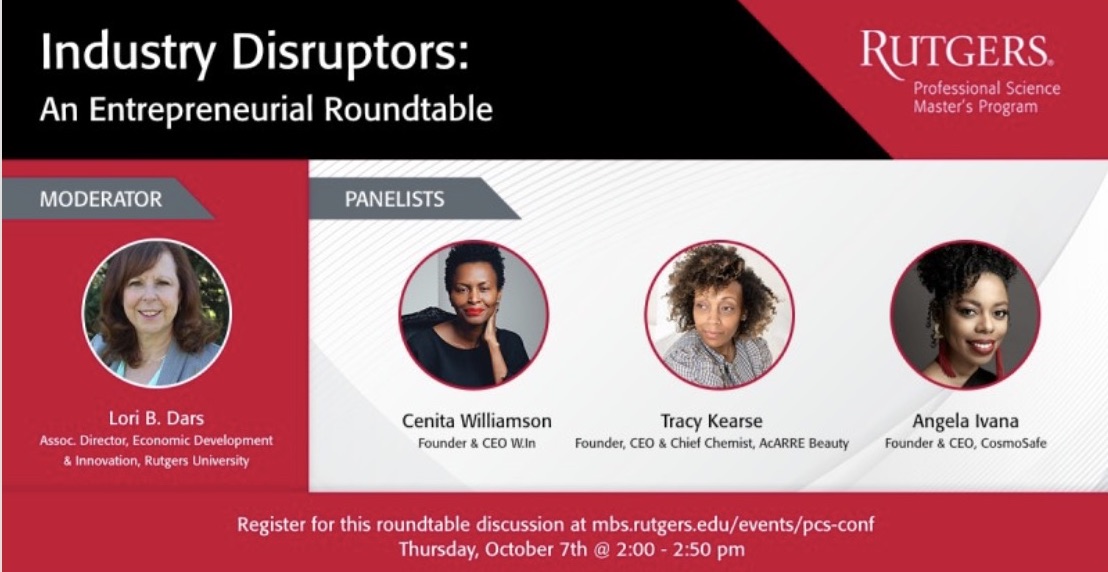 Closing out the two-day symposium was an incredible entrepreneurial roundtable featuring industry disruptors Cenita Williamson, Tracy Kearse, and Angela Ivana—innovators who identified great needs in different markets and took various entrepreneurial journeys to fill those gaps. The event was moderated by Lori Dars, Associate Director of Economic Development and Innovation for Rutgers University, who has long championed and spearheaded entrepreneurship and innovation initiatives universitywide, and was introduced by symposium co-host and MBS Academic Officer and Life Sciences Concentration Coordinator, Beth Ann Murphy.
Lessons From The Experts
Panelists had diverse professional backgrounds and, of course, different catalysts for choosing their individual paths of entrepreneurship. But all three women shared passion, drive, great belief in themselves, and deep commitment to their mission and vision. Below are top takeaways.
Top 10 Takeaways
You need confidence, conviction, and perseverance: confidence in your product, belief in yourself, and perseverance to navigate the unexpected situations that inevitably arise.
Be prepared to financially invest in your business—it's a lot harder to pitch to investors if you haven't made a personal investment, yourself. If you are unable to make a personal investment, wait until you can.
Do your research to find available funding sources such as grants and small loans – there's a lot of money out there waiting to be found and /or applied for, say panelists.
Don't be afraid to ask friends and family for help investing. If it's a product or service you truly believe in and they see your vision, "they will figure out a way to give you $20," say panelists.
NETWORK, NETWORK, NETWORK!
And keep building your network. Put yourself out there, attend events, and volunteer for opportunities. Don't wait for opportunity to come knocking.
Learn the innerworkings of business, finance, and the overall landscape for your product.
Learn the art of pitching—to succeed as an entrepreneur, you have to be an amazing salesperson and be able to sell your vision and your brand to potential investors and customers—which is not hard if you believe in your product.
Realize that entrepreneurship is very, very hard work. "But you can absolutely do it if you have the right tools and resources."
Know your strengths and know your weaknesses—and compensate for those weaknesses by either honing the expertise you need, or enlisting someone who has those skills.