Many Master of Business and Science students consider Professor Kathleen Cashman's course Principles of Communication and Leadership a quintessential part of their journey through the Professional Science Master's program. Dayani Stinson, MBS'28, is no exception.  
Stinson entered the Professional Science Master's program in the Fall of 2022, pursuing a Drug Discovery and Development concentration. Cashman's course was one of the first that she took.  
"[This course] really changed my mindset about leadership," said Stinson. "In the beginning, when I thought about leadership, I thought, 'Okay, I'm not the kind of person who can do that.'"  
Stinson described herself as introverted and quiet, while leaders are typically characterized as energetic and talkative. 
"But with all the guest speakers and journal prompts, it really got me to see leadership in a different view. Now I'm thinking, 'Maybe I can do this.'" 
Stinson set a goal for herself: to step outside of her comfort zone. And this course provided her ample opportunities to do so.  
Stinson was required to interview three leaders for an assignment. After browsing online to find New Jersey business leaders, she discovered the New Jersey Small Business Development Center. She chose to interview Kelly Brozyna, CEO-State Director.  
"In that interview, [Brozyna] talked about attending women's empowerment groups and meetings. So that was something I kept in the back of my mind. A few days after our interview, she posted this 'Go-GetHer' event on LinkedIn."  
The title of this women's empowerment summit is a play on the phrase go-getter, catering to women who own small businesses. Stinson immediately registered. On May 2nd, Stinson traveled to Fairleigh Dickinson University for the event.  
Priscilla Loomis, Olympian and entrepreneur, delivered the keynote speech.  
"She was electric," said Stinson. "She was so inspiring."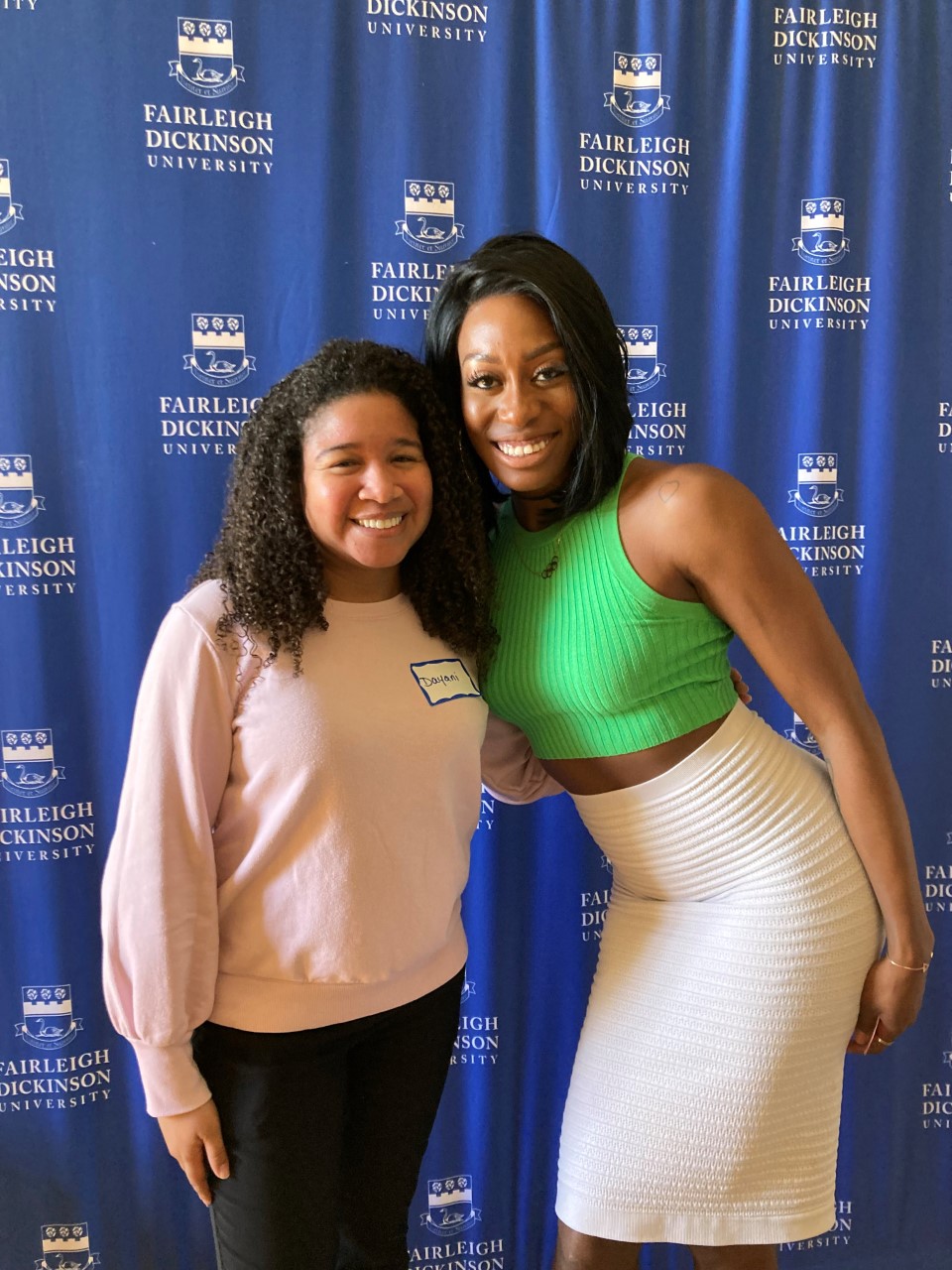 Near the beginning of Loomis' talk, she asked for a volunteer. 
"There were a few seconds of silence," said Stinson. "And then I just put my hand up."  
Stinson went up on stage and answered several questions from Loomis. She was rewarded with her choice of makeup items from a nearby table.  
"I got out of my comfort zone, and it wasn't that bad. In that moment, I didn't think of anything else. It was scary, but I was doing it!" 
At the event, Stinson even had the chance to meet Brozyna herself in person. 
This was Stinson's first professional conference. Go-GetHer featured an interactive environment, including spaces to talk about self-care, goals, work-life balance, and plans for the future.  
"The main message from Priscilla was to stand up for yourself and everything you do every day. After taking Principles of Communication and Leadership and now going to the summit, it solidified the fact that you have to stand up for yourself. You can't be afraid to try new things." 
Stinson said this class has inspired her to push herself outside her comfort zone now, especially professionally. Stinson recently volunteered to join a coordinated facility audit team at her workplace. 
 "If it makes me uncomfortable, I have to do it. Get comfortable with being uncomfortable," said Stinson.  
As for her goal? Stinson believes she has absolutely achieved it, stepping outside of her comfort zone.  
"Once you talk to people, they're happy to share their stories," said Stinson. "That makes me less afraid to approach people. People like talking about themselves, and it's always nice to learn something new about someone."
Stinson is optimistic about the future. After her experience in Principles of Communication and Leadership, Stinson's excited to find out what she will learn in other MBS courses. She sees courses as an opportunity for her own professional growth and development.  
 "I really want to use my knowledge in this program to help me better understand how to navigate the business side of things. I want to be able to apply [this knowledge] professionally." 
To learn more about Principles of Communication and Leadership, read a student's guest blog post about key insights from the course. 
Author(s): Julianna Rossano Published on: 06/07/2023
Tags: Student Story, Principles of Communication and Leadership