Congratulations to the Master of Business and Science October 2022, January 2023, and May 2023 graduates! 
On May 11th, the Professional Science Master's program held a celebratory dinner to honor our graduates. Graduates—including some online students—gathered at The Rutgers Club to mingle with faculty, staff, and each other. It was a night of speeches, photo opportunities, shared memories, and celebration! They were even joined by Sir Henry, the Scarlet Knight! 
Completing the MBS degree is no easy task, especially during a time of change and uncertainty. In fact, the WHO had declared an end to the Covid global public health emergency just a week beforehand. Our graduates have demonstrated themselves to be innovative, determined, and resilient.  
Professor Kathleen Cashman welcomed students, asking, "What's your energy level?" She introduced PSM Executive Director Dr. Deborah Silver. This year, Dr. Silver provided students with her top ten list for graduates. This list included items such as family, well-being, and current events. Of course, she addressed the topic on almost everyone's mind—artificial intelligence and machine learning—by including a list from ChatGPT of top ten skills graduates should know (all of which are taught in MBS classes).  
Dr. Beth Murphy, Ph.D., Assistant Professor of Professional Practice, Life Sciences Coordinator, provided an academic address. She highlighted The Big Help Out, a United Kingdom initiative encouraging residents to volunteer locally. Dr. Murphy encouraged students to take some time to reach out and help someone else. Experience the healing effects of social connection and community.  
Professors who were present at The Rutgers Club provided pearls of wisdom and encouragement for students before roll call. All graduates in attendance had the chance to receive their certificate from Dr. Silver.  
Professor Cashman ended the ceremony by leaving students with the parting message to have kindness go viral. She added, give more to the world than you take.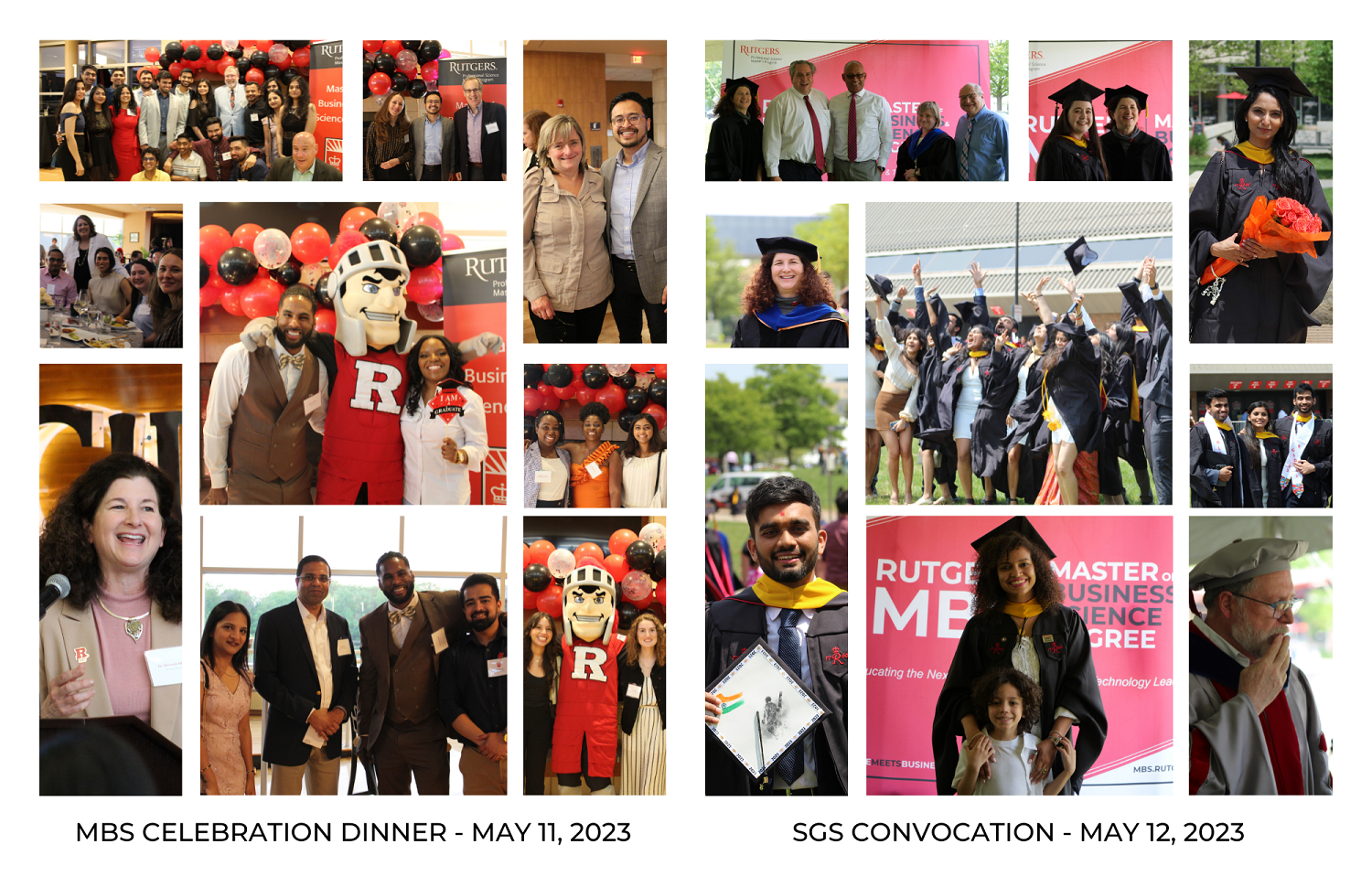 The following week, the Professional Science Master's program held a virtual graduation for those who could not join us in-person. In addition to speeches from Professor Cashman, Dr. Silver, and Dr. Murphy, the ceremony included two alumni addresses as well as a tribute video from MBS instructors. MBS executive coach Abbe Rosenthal, MA, PCC, DYL Certified Coach, announced the names of all graduates.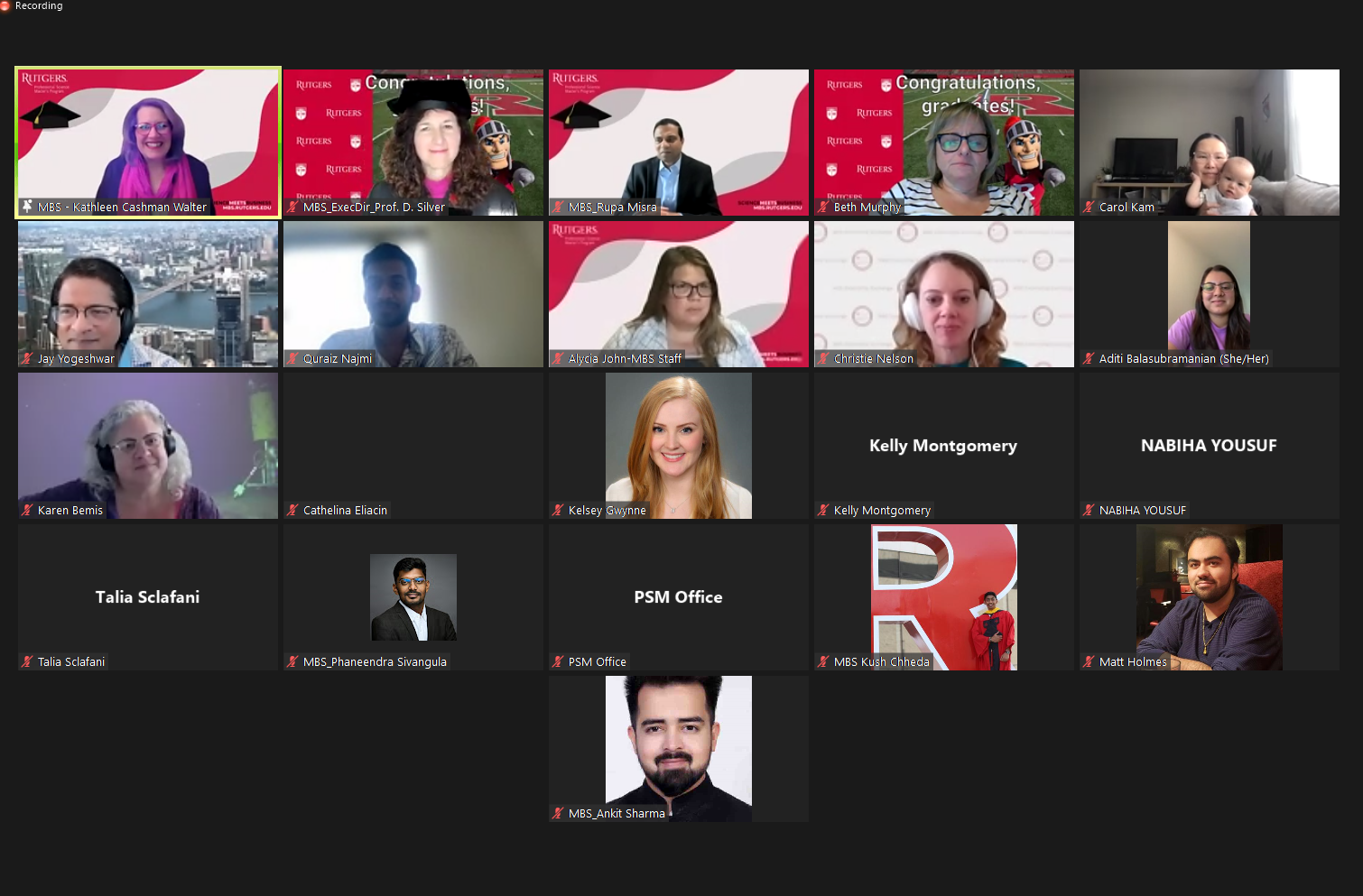 No MBS virtual celebration would be complete without an afterparty in Gather.Town! MBS faculty and staff mingled with graduates in a virtual landscape. Participants could play virtual games, share words of wisdom, and try out our escape room! This year's theme? Escape the castle! 
To all MBS graduates: congratulations, and best wishes for the future! 
Author(s): Julianna Rossano Published on: 05/19/2023
Tags: Live Event, MBS graduation, graduation dinner, MBS Virtual Graduation