The MBS Externship Exchange program offers students the opportunity to gain work experience by tackling corporate-sponsored small projects under the guidance of a mentor. On May 10, 2023, four teams in the MBS Externship Exchange program traveled to the Colgate-Palmolive office in Piscataway, New Jersey, to hand off their final presentations to their mentors. Through these externships, students tackle real-world problems in teams remotely over the course of a semester, with a single student serving as team lead. Externs also deliver ultra-condensed presentations during a round of lightning talks.  
For this set of Colgate-sponsored presentations, externs met their mentors (and in some cases, each other) in person for the very first time. Externs who could not join in person joined their teammates via Zoom along with Externship Exchange program director Dr. Christie Nelson, Ph.D. Abbe Rosenthal, MA, PCC, DYL Certified Coach, introduced each team.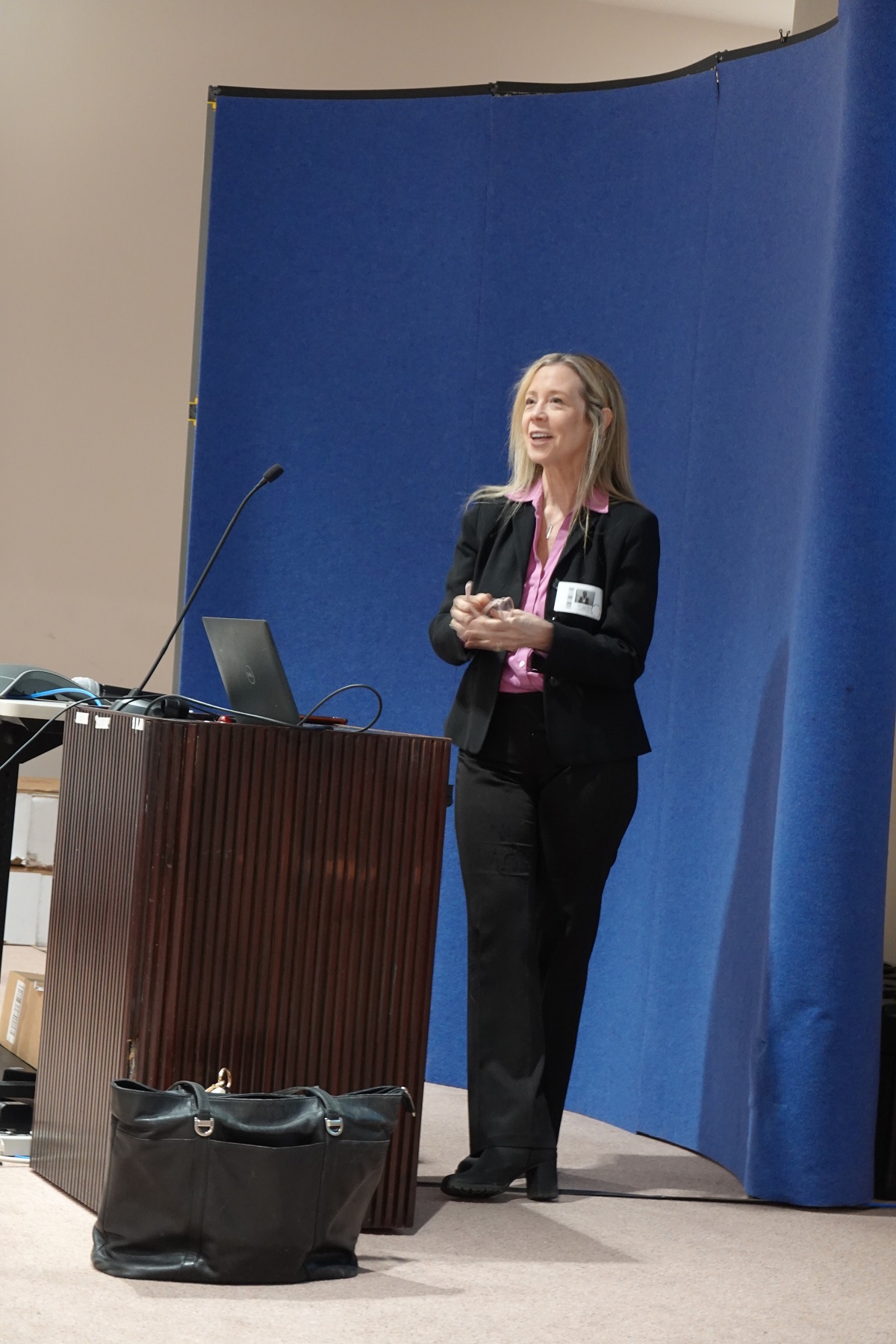 Each team presented highly researched and refined plans of action, and externs expertly answered questions from the audience of Colgate-Palmolive and PSM personnel. Afterward, externs and PSM were invited for lunch in the building's cafeteria.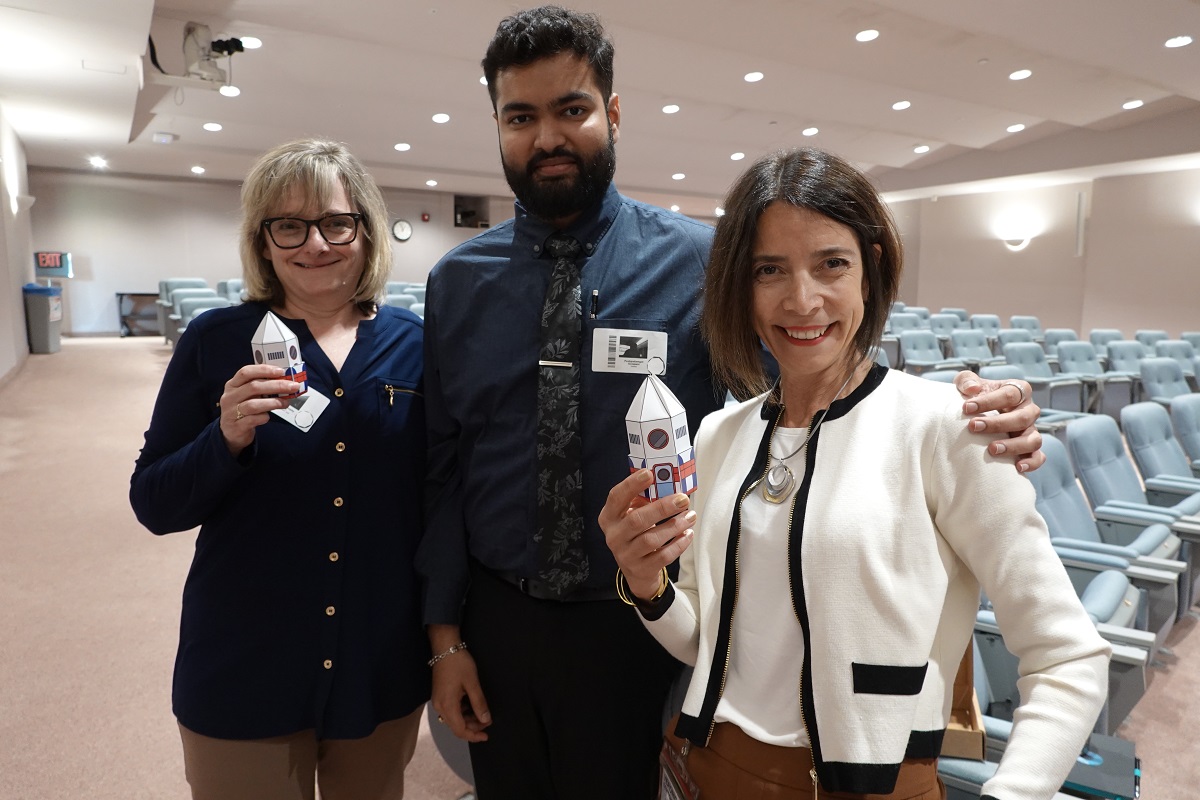 For externs, these presentations were a unique and exciting experience. Teams included Sustainability, Flavors and Fragrance, Regulatory, and Research and Development.
"[Presenting] felt really good," said Manushi Shah, Lead Extern of the Sustainability team. "After COVID, there weren't many events happening. It's good that we got a chance to be here in person at Colgate, and it's a nice opportunity to explore the Colgate building as well."  
"[The externship] was of great value," said Helly Ramsinghani, Regulatory team. "Firstly, it was about being systematic, having discipline, and being organized. We learned a lot about teamwork and collaboration, which has led to this successful project." 
Externships provide students with valuable hands-on learning. They are useful for students who may be exploring a new area within their field, starting in a new area and exploring options, gaining skills as an experienced student, or exploring a new area altogether.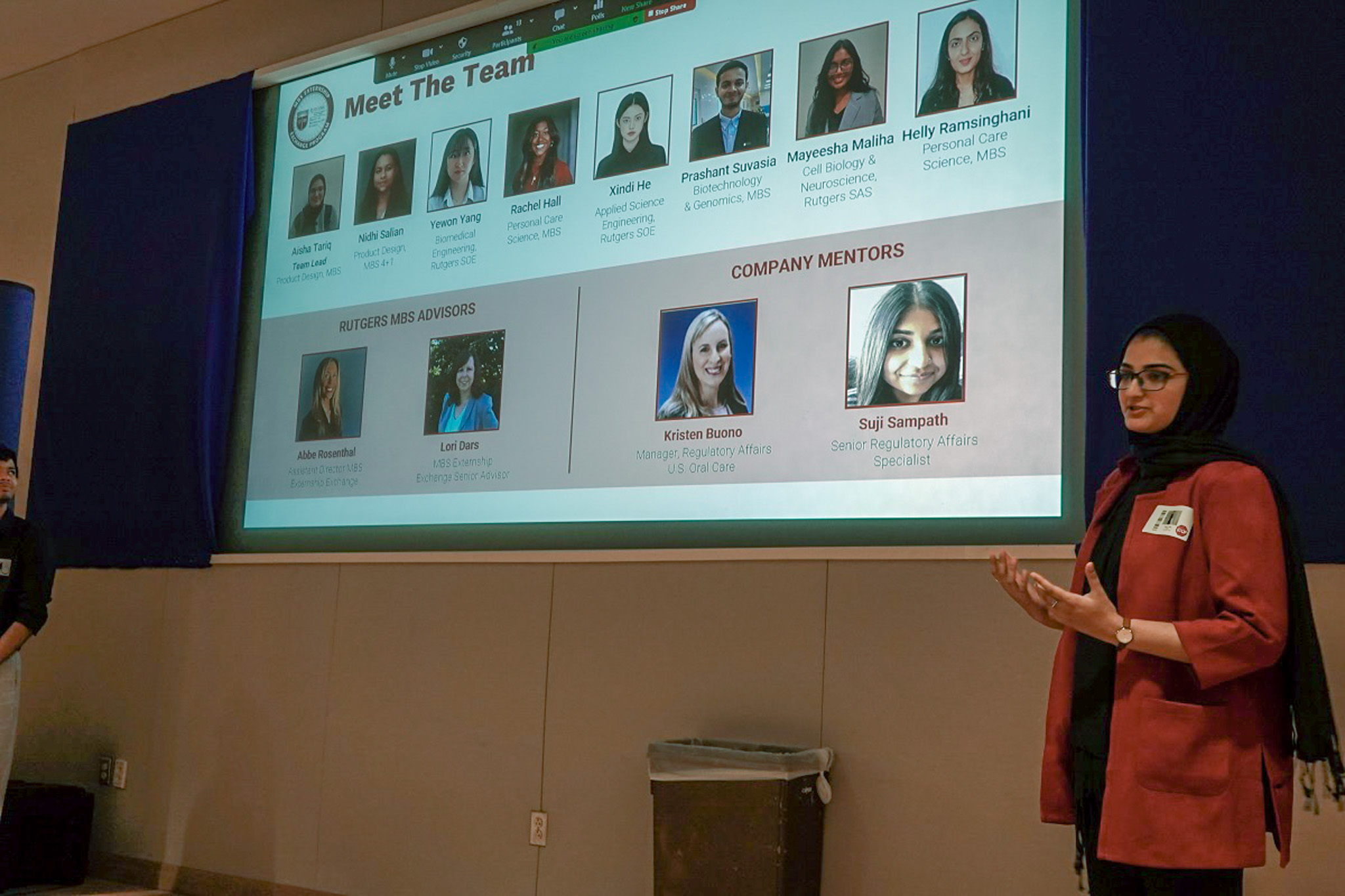 "Since this is my first semester in the MBS, I didn't have as much experience," said Aisha Tariq, Lead Extern of the Regulatory team, "especially in the regulatory department as well as in my concentration, Product Design." There was a feeling of accomplishment in being able to create a product, said Tariq, especially since the team lacked experience in the field. 
It's clear, teams delivered excellent work.  
"Proud, inspired, and grateful are words that only skim the surface to describe the work my amazing team delivered this semester," said Courtney Harris, mentor of the Research and Development team. "They not only helped us to challenge our approach to developing this new product concept, but their critical thinking and creativity have further evolved our innovative process." 
Harris currently works for Colgate in personal care implementation and support. She is also an MBS alumni, having served as Lead Extern herself on a Colgate-sponsored project when she was a student.  
"The externship program holds such a special place in my professional journey and it's been an honor to pay it forward," said Harris. "It was not too long ago that I served as an MBS extern for Colgate, with Abbe as my Rutgers advisor. This has now been my second round as a Company Mentor, and I can't tell you how much fulfillment I get from the transference of knowledge that ensues—my goal has always been to create a rich learning experience for the students; for them to feel like they grow as professionals and champion their objectives." 
The benefits of the MBS Externship Exchange program extend far beyond providing students with an opportunity for experiential learning under the guidance of an external mentor. 
"In turn, our R&D team gains so much from their unique scientific and business-minded skill sets—and just have fun being creative with these brilliant students at the end of the day! Building connections is also at the heart of this Externship experience, and it's important for me to make sure our students know they will always have our support (just like I had with my Colgate mentors) I'm excited for all of their academic and professional futures!" 
The Teams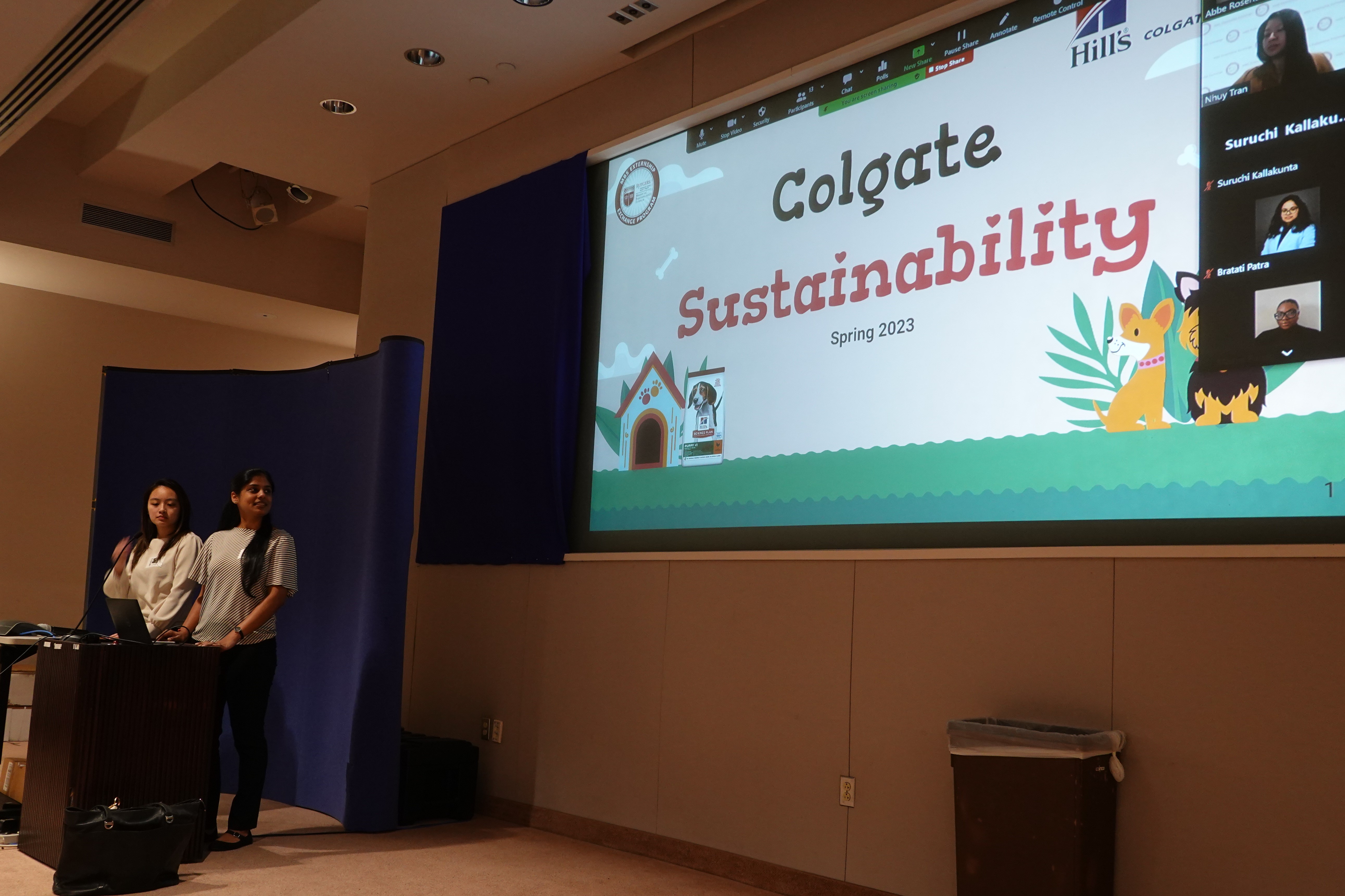 Sustainability 
Challenge: Increasing interest and engagement in recycling and in-store drop-off for empty Hill's Pet Nutrition food bags. 
Flavors and Fragrance 
Challenge: Improving dental hygiene in Generation Alpha.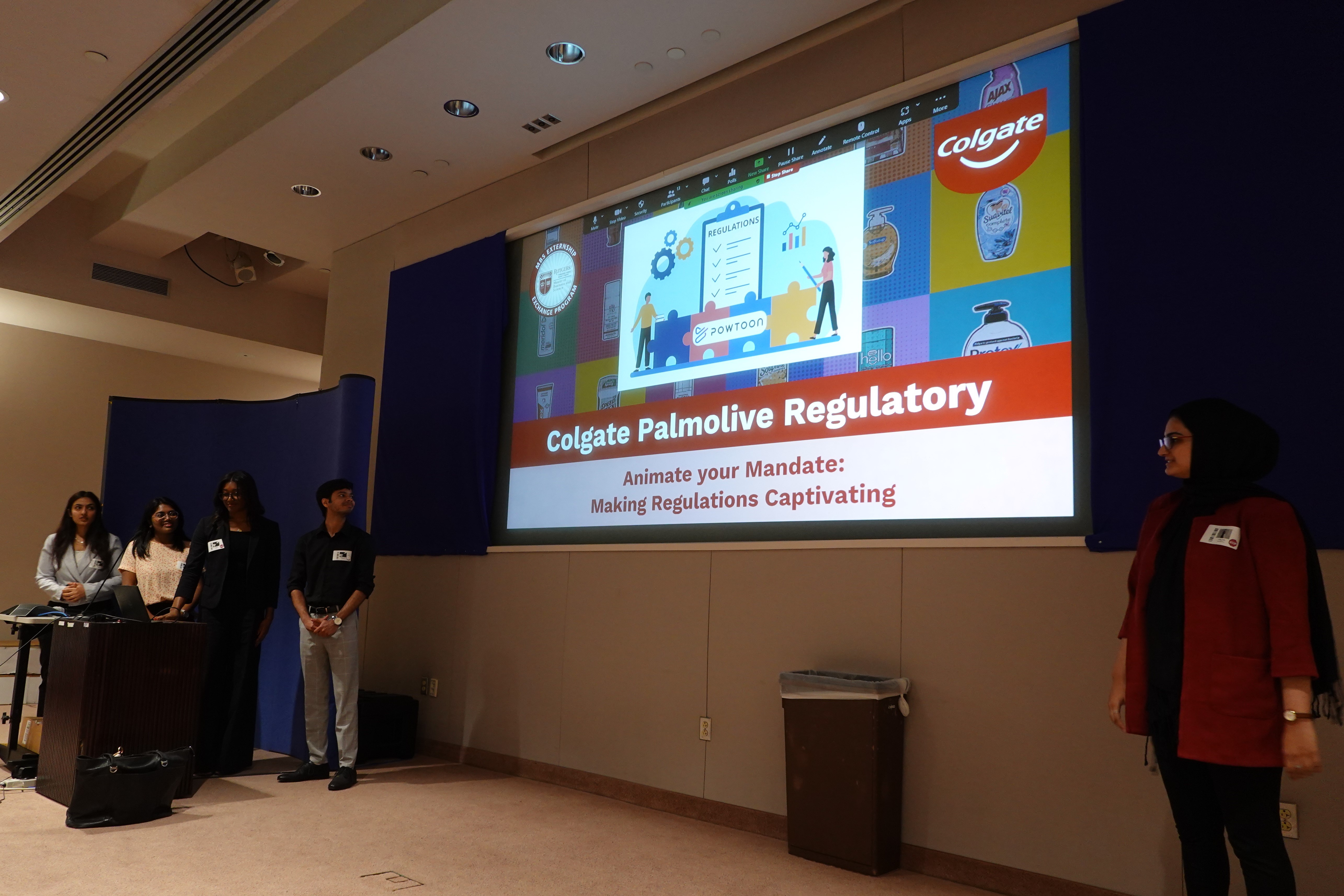 Regulatory 
Challenge: Converting complex regulatory information into a concise format for key stakeholders and non-regulatory personnel.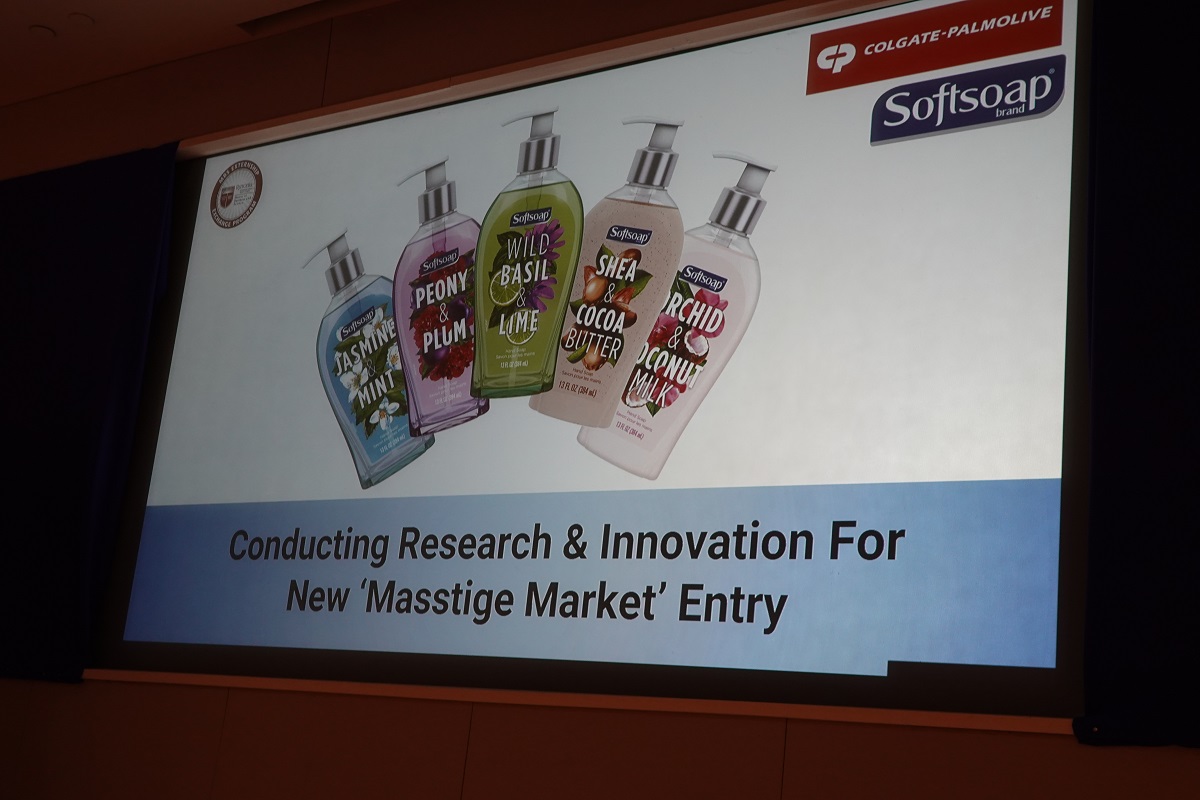 Research and Development 
Challenge: Conducting research on innovations for a new product to enter the "masstige" (prestige for the masses) market. 
Thank you to all the mentors and advisors who made this opportunity possible for students! 
The MBS Externship Exchange program is open to students during the fall, spring, and summer semesters. To learn more about externships, visit the MBS Externship Exchange program webpage or attend one of our informational webinars.     
Author(s): Julianna Rossano Published on: 05/18/2023
Tags: Externship, Externship Presentations, Student Presentations, experiential learning, Colgate-Palmolive