Exceptional Students with Business and Technical Skills
---
Why Our Students
Students come to MBS for one reason –to hone STEM-based business and entrepreneurial skills to propel them forward in STEM-focused, science-intensive careers. Many students work full-time in their desired fields—possessing skills, experience, and expertise that provide a professional edge and give synergy to classroom instruction. Our degree was founded on academic-industry partnerships that remain the heart of our instruction. Our location in the New Jersey/New York industrial STEM corridor has yielded strong ties with leading corporations, and these relationships fuel our thriving internships program, our Externship Exchange Program, and numerous experiential opportunities that benefit both students and organizations. MBS's strong alumni network, our in-house executive coaching, and our peerless experiential learning model are a few of the many advantages that afford MBS students a competitive edge and position them for ongoing success.
Ways to Get Involved
MBS Internship Program
With world-class education, MBS students provide your company with top-level, results-driven thinking, performance, and outcomes. More than 85 percent of our internships are converted to either a continued internship or permanent employment. 
Click here to read more about the MBS Internship Program
Host a Career Session
Visit our campus and talk to our MBS students about your company or role. Or, host a virtual career session.
Serve as a Panelist, Guest Lecturer, or Roundtable Member
 Share your expertise in an MBS classroom or participate in one of our many industry-specific panels or roundtable discussions. 
Become a Judge at our Capstone / Entrepreneurial Events
Bring your "Shark Tank" hat and be a judge of potential startups conceptualized, developed, and presented by students in our Capstone and Applied Artificial Intelligence (AI) courses, among others.
Apply to Host a Project & Become a Student Mentor
Apply here to share your expertise with a student in a related academic concentration.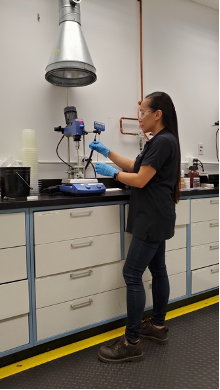 MBS Personal Care Science student, Mei-Ly Chua, conducting a surfactant foam height analysis.
Post your Internships, Co-Ops or Full/Part-Time Job Opportunities