On Friday, June 29th, MBS students in the course Fundamentals of Intellectual Property took a trip to visit the United States Patent and Trademark Office (USPTO). Located in the beautiful town of Alexandria, Virginia, the USPTO is the federal agency for granting U.S. patents and registering trademarks. In the course Fundamentals of Intellectual Property, students learn about intellectual property (IP) with an emphasis on intellectual property strategies.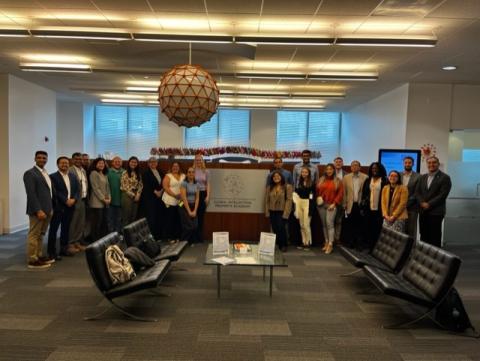 The day began with an introduction to the campus, an executive welcome from Elizabeth Dougherty, Director of the Eastern Regional Outreach Office, and an overview of the USPTO.
Students were treated to multiple panels and dialogues with experienced professionals.
Four patent examiners discussed their lifestyles, day-to-day activities, and key takeaways of the profession. The audience had a chance to ask questions—including about artificial intelligence and its potential uses in the field.
Up next, Liz Jackson, Managing Attorney of Trademarks, explained the main duties of a trademark examiner, noting what a trademark can and cannot do.
After a lunch break, four USPTO professionals discussed the office's resources, programs, and initiatives helping to serve underserved communities and to bridge gaps. The USPTO offers programming, both virtual and in-person, to show how IP touches many factors of our lives. View events available to the public on the USPTO website.
Finally, Peter Mehravari, Director of the Global Intellectual Property Academy, discussed international IP protection, enforcement, and education.
The day ended with a tour of the National Inventors Hall of Fame Museum where students saw a gallery displaying icons of each of the museum's inductees, special exhibits, and even a model Ford Mustang.
Fundamentals of Intellectual Property is an essential course for MBS students who may wish to pursue invention or to work in IP-related professions. Many students from various backgrounds find it useful.
Jessica Aragona, an MBS student pursuing a concentration in Personal Care Science, said that because her background is in science and personal care, she's never looked into the world of IP and patents. However, she enrolled in the class to learn more about the process of pursuing a patent and how it relates to her field.
"It's definitely different," said Aragona, "but I do enjoy it. It's really cool to see the people who are behind everything we've learned in class." She was also excited to learn about the trademark process firsthand from an expert before it was even covered in class.
"It makes it more human in a sense," she added.
MBS alumni Rajan Verma, who graduated in 2023 with a concentration in Biotechnology and Genomics, is currently a Teaching Assistant for the course. He completed the course himself as an MBS student.
"As a student taking this class, I had no prior experience in IP or the whole field in general," said Verma. "Taking the class and then becoming a TA and learning even more, it's really brought a great sense of understanding to how IP affects not just my field, but all the other fields in the MBS program. It's a foundation for a lot of these scientific-based concentrations. It's really important for students to understand how [IP] works and how it affects them in their careers. I think that this course is a fundamental piece of MBS as a whole and really important for all students to take."
Although Verma has been involved in this class previously, this was his first time visiting the USPTO office in person. "I've done this program virtually for two years, and this is my first time coming down here in person. Both pieces are valuable, but coming down here and seeing it for yourself with your own eyes is a lot more valuable. Obviously, you get to make these connections that you wouldn't otherwise in a virtual setting. I think it's really important for students to take advantage of the opportunity when it's given."
If you would like to learn more about the course Fundamentals of Intellectual Property, read about our last in-person trip to the USPTO.
Author(s): Julianna Rossano Published on: 06/27/2023
Tags: Fundamentals of Intellectual Property, intellectual property, Trademarks, Patents, Live Events, experiential learning